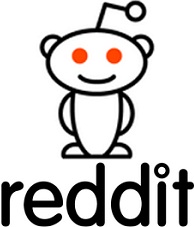 The social news community, Reddit, has just disclosed the site's traffic stats for December 2011 and the numbers are pretty incredible: Nearly 160 million monthly visitors that viewed an average of close to 13 pages for each visit which resulted more than 2 billion monthly pageviews!
What Is It Reddit Exactly?
Reddit is a popular social networking service that allows users to share pieces of contents from the web (by links), rate and comments about them. The highest rated pieces of contents at every given moment are highlighted in Reddit homepage and therefore, it considers as a source of the most popular "social news".
Reddit's community (and also as a company) is one of the loudest opponents to the controversial SOPA bill (that potentially can damage the company) and also was the biggest voice that called to boycott GoDaddy because it publicly supported the bill.
Reddit December 2011 Statistics
The latest traffic stats for December 2011, that have been posted in Reddit official blog, are showing an incredible increase compared to the stats from almost a year ago:
159.2 million total visits (234% Increase)
34.9 million unique visitors (254% increase)
2.1 billion pageviews (206% increase)
12.97 pages per visits (11.7% decrease)
16:15 minutes average time on site (7% increase)
We can see that Reddit total monthly visits have more than doubled in less than one year while managing to expand enormously the loyal visitors base. Although the pages per visit have declined by nearly 12%, i think it is pretty natural with such a big traffic growth.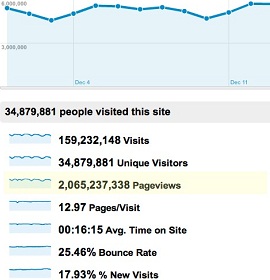 One more interesting statistic that revealed is the visitor's browser trend- Unlike the general web browser market share, the preferred web browser is Chrome (42%) where Firefox also enjoying from higher popularity (34%) than the overall norm. Internet Explorer is only fourth (7%) after Safari (12%).
No Ads, No SEO, No Social
Reddit management is very proud that they don't use any of the "traditional" tactics to drive traffic to the site such as advertising, SEO (although a significant visit share comes from search engines) or any social media integration (there aren't any links to the company's own Twitter/Facebook accounts).
It appears that the marketing strategy (if i can call it that) is simply to rely on the quality of the product itself (the site) and nothing else. I don't know how many more companies can effectively use this type of "strategy", but apparently Reddit managed to pull it off pretty successfully and impressively…