Following the report from last week indicating that attention to the +1 button increased tremendously, there are more indications that Google+ users engagement is rising. The bad news for Google are that more top brands are not rushing to get their hands dirty with the social network yet…
A new study by the social media measurement company, Simply Measured, is pointing out that both users and existing brand pages on Google+ are increasing their interactions on the site, although only one new top brand (taken from Interbrand's top 100 brands) has created its own brand page for the last couple of months.
The study is showing a big jump of users engagement with brand posts since the beginning of January 2012 (Search Plus Your World effect?) that reflects in +1s recommendations, commenting on posts and resharing the posts. The peak was in mid-January and since then, the overall engagement has slightly declined but its too early to identify clear trending at this point.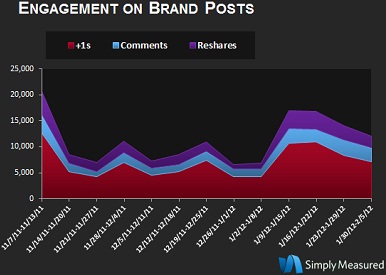 From the top brands side we can also see an overall increase in Google+ interactions. Since December 7th to February 7th, 36% more brands(from 11 brands to 15) are posting more than 3 times a week, 62% more brands (from 13 brands to 21) have more than 5,000 people in their Circles and for the first time 13 brands have more than 100,000 people in their Circles.
But apparently Google+ still find it hard to attract new top brands to start their own pages. Since December 2011 to February 2012, only one new top brand has joined Google+ (Honda). This findings are a bit conflicting with a prior research from BrightEdge which indicated that 77 top brands have joined Google+ already in December, probably due to different rankings of the top brands.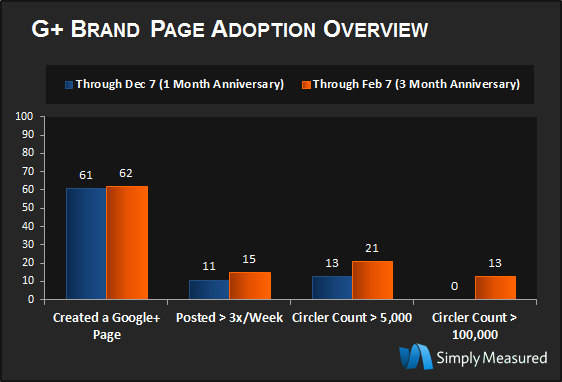 I was reading another analysis of this report earlier, seeing its findings as a bad sign for Google+ adoption, I don't agree. It is important to remember that Google+ has just launched in June 2011, opened for all in September and enabled brand pages in November. Achieving those stats in this short time frame is certainly NOT slow adoption!
On the meantime, Google's marketing efforts continues. If you watched the Grammy Awards, you probably saw a new emotional commercial for Google+, highlighting its Instant Upload feature. At least according to Google's VP Bradley Horowitz, it is based on a true story. Here's the commercial: