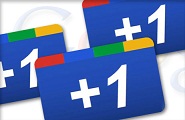 Although there were many doubts at the beginning, it looks like Google+ is turning out to be a real online success story. After last week i reported that according to a recent analysis Google+ crossed the 100 million users mark, there are more indications on the web for its growing popularity.
A new report from the web measurement and analysis site, Compete, is indicating that in addition to Google+ visitors growth, the +1 button attention on the web (it is located in plusone.google.com) also saw an enormous jump. This is pointing out on an increased level of user engagement with the social networking site.
Compete is stating that for the research, they had a sample size of 1% for the U.S. with a gigantic panel constituted from two million non-mobile American users.
Attention To The +1 Button Has More Than 4X In November-December
According the data, attention the the +1 button has been increased from about 0.1% at the beginning of November 2011 to more than 0.3% in early December and to slightly above 0.45% in mid-December. Page views to the +1 landing page have also grown at the same rate.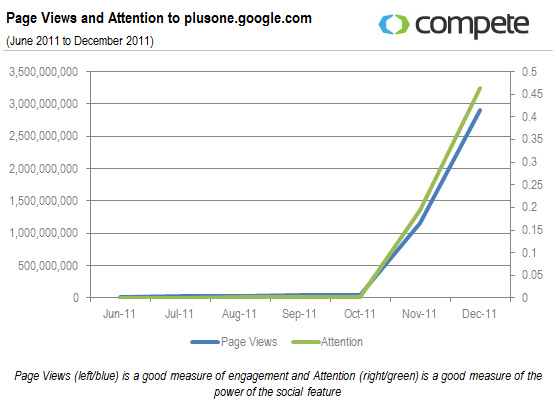 As for Google+ site itself, the social network total number of unique visitors has rose by 40% at the period of early November (about 14.3 million unique visitors) to mid-December (nearly 20 million unique visitors).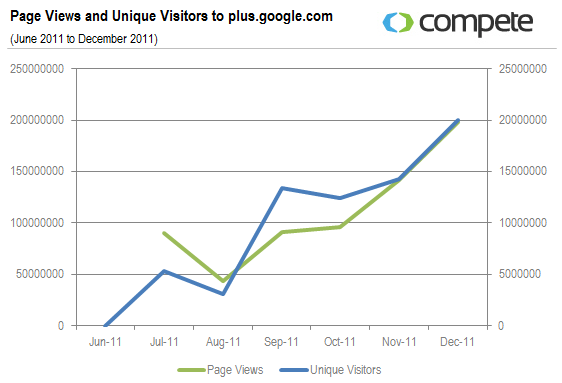 The report is stating that Google+ visitors are already half the size of the "veteran" social networking site, Twitter, which had 40.4 million visitors in December. It is important to remember that all these stats have gathered before Google launched its Search Plus Your World feature that suppose to reinforce Google+ significantly.
The social networking battle is getting hotter and although there's room for many social networking sites as social networks per user adoption is increasing, i suspect that we will keep seeing fierce competition throughout the year.