Brand pages are one of the most important things to social networking users, so they could follow their favorite companies and it is obviously important to the brands themselves to connect with existing clients and to expand their reach to new ones. Therefore, when it was finally possible to open brand pages in Google+ at the beginning of November, it was safe to assume that both brands and users will quickly adopt it.
Now, according to a recent research from BrightEdge, It seems that Google+ adoption by brands and users does gaining momentum- Additional major brands now have an official Google+ brand page while they manage to attract more followers to their Circles. Additionally, To increase furthermore the exposure of brand pages, Google is now implementing them also in the search results.
Top Brands Google+ Pages Adoption
Last month (just a week after Google+ pages became available) i reported that 61 out of the top 100 brands already have a Google+ official page. This month, 16 more top brands have joined them to a sum of 77 with an official Google+ page. Although the gap from Facebook is getting smaller, the social networking giant still leads with 93 top brands adoption.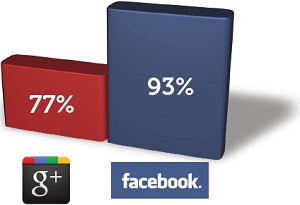 More interesting facts about social networks pages are that there are few brands like Google, IBM and Vodafone that have only an official Google+ page and nothing on Facebook. Marlboro is apparently the only top brand that don't has any official page in both social networks.
Users Google+ Pages Adoption
The number of the top brand pages followers in Google+ (in Circles) has jumped from 147,000 in November to 222,000 in December, which reflects an incredible 51% rise! Still, it is very far from the 300 million followers the top brand pages have on Facebook, however, we should consider the time factor and the number of users (Facebook has more than 800 million and Google+ estimated to have about 65 million).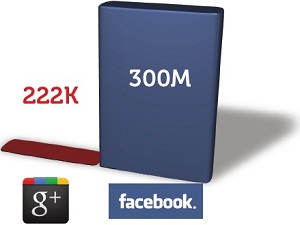 More interesting facts about Google+ pages followers are that Google has the largest fan base (more than 77,000 in its Circles), Starbucks has four times more followers in their Circles than in November and additional two brands (H&M and Pepsi) now has more than 20,000 followers in their Circles.
Google+ Pages In Search Results
In an effort to increase the exposure of Google+ pages, Google is now implementing them inside the search results- Posts, promotions and photos from the brand page can now appear on the search results page. This way, Google is encouraging users to join Google+ and to follow their favorites brands. For example, here's a screenshot of the results whenever searching for Macy's: