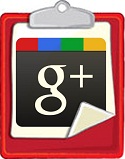 It seems that enabling brand pages was highly contributing move to Google+, after holding still for the past few months: New reports are indicating that the social networking site had a significant visitors (traffic) increase and that most of the top brands in the world already created brand pages.
Attracting More New Visitors And Returning Visitors
A report from Experian Hitwise is showing a 5% weekly traffic rise in the week ending on November 12th compared to the prior week, with more than 6.8 million visitors. It also represent a 25% growth compared to the parallel period from the prior month. Experian Hitwise are stating that this was the third highest traffic week ever for Google+.
It appears that after opening brand/business pages in November 7th, Google+ enjoyed a growing amount of visitors and it most probably was the main cause for the traffic increase. Here is Google+ weekly visitors graph since July until last week (ending at November 12th):

Another positive traffic indication came from the returning visitors (visited the site in the last 30 days) stats- 74% of the traffic came from returning visitors, 18% increase from the parallel period in October. This is suggesting that the users are visiting the site more often and engaging more with the social network contents.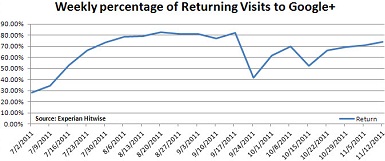 The Top World Brands Creating Google+ Pages
Yesterday, the search and social management platform BrightEdge has posted an analysis indicating that 61% of the top 100 brands in the world already have Google+ pages. It demonstrates that brands are embracing quickly the new Google+ pages platform, acknowledging the social networking potential and influence. Just for comparison, 94% of top world brands have a Facebook page.
However, while adopting fast a social presence in Google+, just 12%-13% of the top brands are linking to their Google+ page from their own homepage so far, compared to the 53% top world brands that links to their Facebook page from their own homepage.