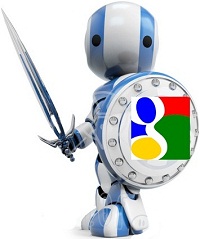 If Google is looking for the bright side of Facebook IPO filing, then it at least occurred at the best timing for the company- Right now, it is in the middle of a trashing ad campaign from the courtesy of another tech-giant, Microsoft, that completes this love-hate triangle story (well, mostly hate).
But if you thought that Larry Page and friends will stay quiet while receiving hit from Bill Gates gang, you were so wrong… However, unlike Microsoft strategy, Google is staying on the defense (at least for the moment)- The company has published facts to refute Microsoft's accusations and also began a (smaller) ad campaign of its own.
Myths and Facts By Google
In order to contradict the "facts" (i don't really know who to believe anymore) that thrown by others (mainly Microsoft) to defame Google, the company has published a new post in Google's Public Policy Blog where it is describing the myths (Google's rivals sayings) and the true facts (Google's saying):
Google Selling Information About Users – Google denies any kind of user's information trade and only target ads based on search queries or based on anonymous data services.
It Is More Difficult To Control Personal Information – Google stating that the privacy controls after the privacy policy changes remained as they were before (delete history, use services when signed out, ad preferences).
New Privacy Policy Designated To Collect Data For Advertisers – Most of Google's products integration are unrelated to ads (i find it a little hard to believe) and simply make it easier to use different products in one place (that i can believe).
Google Reads The User's Emails – Google bots "only" scan emails to filter spam AND to target ads (not so much of a denial).
Google Apps Aren't Secure and Not Certified – The apps got governmental certified DUE to their safety (which is correct).
Google Risking Government Information – Google has separate agreements with these establishments and the new privacy policy didn't replaced them (which again is correct).
Microsoft's Privacy Policy Is Better Than Google's – Although Google are stating that they aren't judging other policies, they are doing exactly that but with good justification: Microsoft old collect and use information policy is just like Google's new one as it is also stating on integrating user's information from different products!
Although i tend to agree with Google about the inaccuracies of others accusations, the truth is probably residing somewhere in the middle (like most of the time).
Smaller Ad Campaign
Google is also working on the defense with an ad campaign of its own in some of the popular news sites online. But unlike Microsoft's giant ad negative campaign on the print media, Google chose a smaller and more neutral campaign that don't relates to any other company except Google.
The main message of the ad is very similar to the blog post's and all it is saying is: "We're changing our Privacy Policy. Not your privacy controls." The ad is referring to the company's new policies page where they can learn more about it. Basically what is Google trying to deliver is before believing others, check the facts yourself, which i think is the right approach.
Here's the ad screenshot: