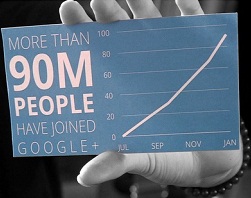 After in the last few months we discussed, analyzed and estimated (tried to at least) what is the current situation of Google+, yesterday we finally received some official numbers from the company in its financial report for the fourth quarter of 2011- Google+ current body count is 90 million users worldwide.
Beating All Prior Estimations
Google's CEO, Larry Page, has disclosed that the number of users of the social networking site/identity service has more than doubled itself since the last time Google released official number (40 million users in October): "(Google+) now has 90 million users globally – well over double what I announced just three months ago."
Google+ data disclosure is overcoming my estimation in late December that Google+ has 65-70 million users and it is even topping the expeditious growing rate forecast by Paul Allen that predicted it will reach 400 million users until the end of the year. It will be intriguing to see if Google+ will keep up its incredible growth momentum furthermore in 2012…
Users Engagement – 60% Daily, 80% Weekly?
The interesting stats didn't stopped at the current body count but also in terms of engagement- In a follow up post in his Google+ account, Larry Page also revealed information about Google's users behavior patterns: "+users are very engaged with our products – over 60% of them engage daily, and over 80% weekly."
Is it really the case that 54 million users are using Google+ on a daily basis and 72 million on a weekly basis? Probably not. I am guessing that what Google CEO meant to say is that the users are signed in for their Google account on a 60%/80% daily/weekly basis, which can also relate to other products of the company like YouTube, Gmail, Blogger and others.
I found a reinforcement for this assumption in a Google+ post by Google's senior engineering VP where he posted a few photos (including the one at the top) which one of them is referring to the 60%/80% daily/weekly stats as "sign in" which is very much different than engaged with Google+. Here's the photo: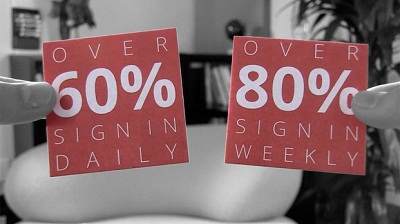 It is important to understand that eventually what really matters is the engagement stats that can say a lot more about the product success and therefore the Google+ user's behavior stats have so much value. At the moment, Google declined to comment on the issue and whenever they will, i will post an update also.