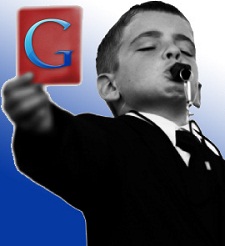 I am considering to start a weekly regular column of "big mistakes by webmasters stories"… After the the empty website complaint story, which i thought was pretty stupid, i found a worthy contender- A webmaster that asked for a link exchange from no less than a Google search team employee.
The Story
Susan Moskwa is a webmaster trends analyst in Google's search team which works everyday to fight spammers and linking manipulations. So imagine her surprise when she received an email from some webmaster (called Mary) that asked from her to exchange links between their websites…
It appears that the webmaster didn't settle with just the request but also tried to "educate" Susan and explain that exchanging links will benefit both parties by increasing their traffic while the "best thing" is that it is FREE of any additional cost or hidden fee (how generous)!
After Susan's initial shock, she send the webmaster the following email: "Seriously, Mary? You sent a link exchange request to a member of the Google search team, for a domain that isn't even hosted?? You didn't even look at the site, did you. MAJOR LINKSPAM FAIL. I'm reporting your site to Google for violating our Webmaster Guidelines."
I think that Susan's responding email really says it all and no further explanation needed. You can find more details about the story from Susan in this Google+ post.
Link Exchange Is Against Google Content Guidelines!
Google sees link exchange as a form of trying to manipulate the search algorithm and therefore it is against its quality guidelines for webmasters and can even get websites penalized (demotion in rankings)! Here's what Google thinks about Link schemes:
"some webmasters engage in link exchange schemes… This is in violation of Google's Webmaster Guidelines and can negatively impact your site's ranking in search results."
Matt Cutts referred specifically to the subject of link exchange emails already in 2005, describing them as an SEO mistake. He points out that most emails that request to exchange links in fact were sent by some sort of software and by all means not "hand-crafted with love".
If you are serious about your online business, find better ways for backlinks for your website because link exchange simply don't work anymore and in some cases can even damage your site's rankings!