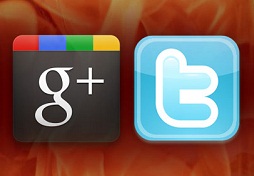 Google presented yesterday its new social search engine, where the search giant made a drastic interface changes to the whole search experience by combining "social" (=Google+) into the search engine. Shortly after, the slamming began, where in the front you could find the micro-blogging social networking service, Twitter.
Background
Once upon a time, Google and Twitter had a strong healthy relationship where the companies held an agreement that granted access to Googlebots crawling and indexing contents from within Twitter's private feed. The authorized access to Twitter's data is what mostly powered Google's social search of that time, Realtime search.
But back in July 2011, the agreement expired and hasn't been renewed. As a result, Google shut down Realtime search as it lost its main source of social data and didn't held much value anymore. Since then, Google has been implemented slowly Google+ into the search engine until yesterday it presented the new "Search Plus Your World" search engine.
Twitter: Google's changes Are Bad
The first reaction from Twitter to Google's new search concept came from Twitter's general counsel for policy and trust, Alex Macgillivray (ex-Google employee), in a Tweet where he referred to the search-social changes as nothing less than a "bad day for the internet" and posting a link to a real negative blog post review:
Bad day for the Internet. bit.ly/Am5bqz Having been there, I can imagine the dissension @Google to search being warped this way.

— Alex Macgillivray (@amac) January 10, 2012
The official response from Twitter didn't late to arrive soon after. In a statement released to multiple online sources Twitter has raised their concerns that the recent changes will make it harder for people finding the most relevant results as they excluding Twitter's vital information. It is mostly interesting how the statement is ending:
"We think that's (Google's changes) bad for people, publishers, news organizations and Twitter users." (Official Twitter response to Google's "Search Plus Your World")
Google: Surprised By Twitter, Open To Talk
As a response to Twitter's response, Google released also a statement (naturally on Google+) where they expressed their surprise from the reactions of Twitter to "Search Plus Your World". For the first time, Google disclosed that it was Twitter that chose not to renew their deal in July 2011 and therefore the blame is essentially on them.
However, Google isn't shutting the door for anyone. Eric Schmidt, Google's executive chairman, has released some interesting statements in an interview (you can watch it in the video below), which i can only summarize as an invitation for discussion with Facebook and Twitter to grant Google access to crawl their contents. Here some of the highlights:
"A simple answer is that anything we do with companies like that (Facebook and Twitter), its always to have a conversation."
"I do hope when you speak to Facebook you ask them analogous about opening up their index and all that content that behind their licenses."
"The Core question is would we be willing to (talk to Facebook and Twitter), and the answer is we will be happy to talk to them about it."
My Opinion: Google Will Never Be Perfect Without Other Social Sources
I can certainly understand Twitter reaction to the latest Google's search engine changes- Google is by far the most popular search engine that basically directing all traffic online, and being pushed aside is definitely isn't healthy for Twitter. However, if Google statement is indeed correct, then Twitter is also partially blame as it refused to renew their agreement at the summer of 2011.
If Google wants to provide the best search experience and service as possible, it MUST include other social networking services besides Google+. It simply can't afford to ignore social signals from these giant social information sources (especially Facebook and Twitter)! I do hope that eventually new agreements will be signed to offer us (the users) the best (perfect?) search engine as possible.