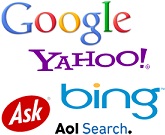 As we are getting closer and closer to the end of the year and about the begin 2012, it is interesting to see what is the most accurate picture of the search engine landscape and if the status quo, that been kept steady (more or less) for over two years, will remain as we reach to 2011 finish line.
In addition to the regular stats from comScore (the leading research firm), in this post i am also featuring the most recent search engine statistics from Chitika (for U.S. market second opinion) and information from StatCounter for worldwide data. Alright, let's see what has changed from October and where are we standing in November:
comScore Report – U.S.
The report from comScore is indicating that the most popular search engine, Google, has lost 0.2% market share and now holds 65.4% share. The second most popular, Yahoo, has lost 0.1% share and now it is almost equal to its search alliance partner Bing, which gained 0.2% share and it is holding 15% of the market share.
Ask kept its 2.9% share and AOL gained 0.1% while standing at 1.6%. Although we can't see a drastic change, it seems that Bing is heading slowly towards the second place, but on the expense of its partner Yahoo and not necessarily taking shares from its bitter rival Google.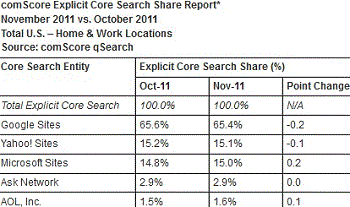 Chitika Report – U.S.
The report from Chitika is offering a little different point of view about the search industry- On the expense of all other search engines, Google is more dominant and holds 71.9% market share (down from 72.4% in October). Yahoo has 13.7% (up from 12.8%) and Bing has 11.8% (down from 12.3%).
Ask and AOL only holds fractions of less than 1% each (both slightly up). It means that the Bing-Yahoo alliance is holding about 25.5% of the share, less than the about 30% we are used to see from other reports.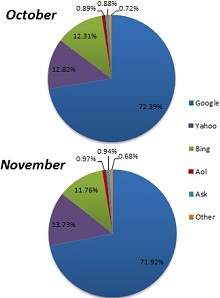 StatCounter Report- Worldwide
Google dominance in the global arena is much more significant as the statistics from StatCounter are showing. Google holds slightly more than 91% of the world share while Bing (3.6%) and Yahoo (3.5%) doesn't really offer real competition. All other search engines holds all together insignificant part of less than 2%.
The great world domination of Google and the only 7% combined of Bing-Yahoo alliance is probably the result of a much better search performances by Google in different languages compared to the lesser functioning of Bing-powered results in languages different than English.