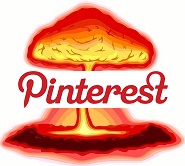 About two weeks ago, i reported that Pinterest traffic is exploding with more than 11 million visits a week which represent 40 times increase (!) at a six months period of time. As the site presents a new attractive social concept and drawing praises all around the web, i decided that i need to dig in and find out myself what is all the fuss about.
At the end of that post i wished to receive an invite so i could join the social networking site (Pinterest membership is currently an invite-based only) and examine it myself. Well, on December 28th i finally received an invite and since then, Pinterest became my biggest referring site traffic source, surpassing all other websites and social networks…
Pinterest Short Overview
If you aren't familiar with Pinterest social concept, here's a brief overview- It is an online community where the users can "Pin" images or videos (from the web or directly uploading), share them, comment, follow and browse through other users "Pin Boards" and "Repin" contents of others. You can read more in my review of Pinterest.
My Experience
As i stated, on December 28th i have joined Pinterest (using a Facebook sign up), created my profile and the board Online Business News, where i decided to upload the recent images from articles in WorkingHomeGuide.com. In a matter of just a few hours, the Pinterest community already was engaging with my contents as they checked my images, repining them and visiting my site. I was shocked.
Almost over night Pinterest became my biggest referring site traffic source. In fact, except for search engines, it is outranking all other sources of traffic including Facebook, Twitter and Google+. Over the last 10 days or so, Pinterest was responsible for almost third of my referring sites traffic sources (excluding search engines). Here's how it is reflecting in my Google Analytics account: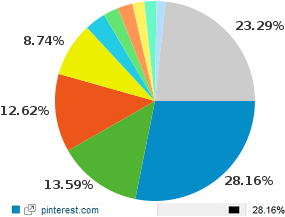 Pinterest Continue To Gallop
At the post i mentioned at the beginning i talked about Pinterest Alexa rank fast progress. It seems that since then and until now, Pinterest doesn't intends to stop- Its global rank is now 184 (3 months average), while two weeks ago it was 220! Soon enough Pinterest will enter the top 100 most popular sites so i suggest you to try receive an invite, luckily i already got mine….