When last month i first discussed about Pinterest, i indicated that it had a tremendous traffic increase of more than five times as much in a matter of just a few months. Well, a month passed by and it seems that the social virtual pinboard simply doesn't stop and continues to grow in a monstrous pace!
4,000% Increase In Six Months
A new post by Experian Hitwise is describing that Pinterest traffic has increased by nearly 4,000% (yes, forty times more) in just six months to a total number of 11 million visits in a week! These stats are correlated with the stats from my review a month ago that showed more or less 3 million weekly visits in October.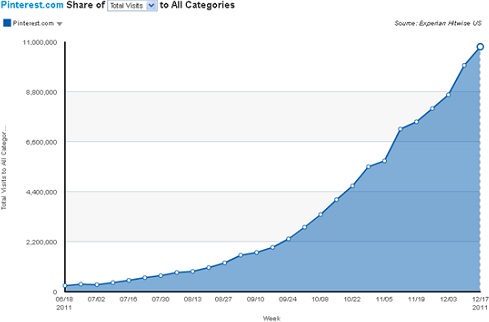 The site's demographics were also analyzed: Most of its users are females (58 percent) and between the ages 25-44 (59 percent). With the latest Pinterest growth stats it has entered Experian Hitwise's top social networking sites by visits, topping Google+ and landing at the ninth place.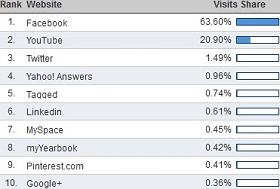 Pinterest Global Rank (Alexa)
To examine furthermore these amazing traffic statistics i also compared them to the site's Alexa rank, which showed similar findings: Pinterest has advanced from ranking at 800th place in July to the 138th place yesterday (December 22nd), where it's overall rank is currently at 220 (3 months average).

Looks Promising For 2012
Besides its incredible growing traffic numbers, Pinterest is also receiving a lot of positive verbal recognition- Many critics, reviewers and bloggers are praising the site's social concept and its platform, where lately it was even chosen as one of PCMag's top 2011 websites (on the social sites category).
What even amazes me more is that this site is still only open (for publishing) just for invited members. Pinterest is definitely one of the social networking sites i am going to keep an eye on in 2012 and intend to increase my activity in. Well, that is of course whenever i will finally receive my invite…