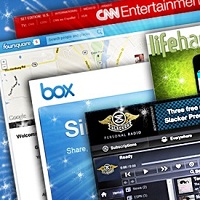 PCMag has summarized 2011 in its traditional way by releasing its annual top websites of the year lists. It isn't clear how exactly PCMag's editors and writers have ranked the sites precisely, although they have stated that appeal, design and features usability are some of the essential factors.
The lists are divided to two top-categories: Classic (sites from last year that stayed relevant to changing audience) and Undiscovered (new sites). For each top-category, there are seven sub-categories: Apps, Fun, Info, News, Shopping, Social and Tech. Overall, there are 61 sites in the Classic category and 39 sites in the Undisclosed category that listed by alphabetical order.
Interesting Findings
Google had four websites on the list (Blogger, Google Docs, Gmail and YouTube), all in the Classic-Apps category. However Google's greatest product, the search engine, wasn't listed while its greatest search rival Bing was. Not surprisingly, Facebook, LinkedIn and Twitter are the top social networking sites, where Foursquare managed to squeeze in also. Google+, if you asked, wasn't on the list.
Over the new sites (Undiscovered) arena, the fun sub-category is the biggest one with 12 out of 39 websites (about a third). Pinterest (which i reviewed a month ago) was one of the top new social networking sites of the year. DuckDuckGo, the alternative no-spam search engine, received his well deserved respect on the Undiscovered-Tech category.
PCMag has revealed that there was a decrease of some sort in the quality of new websites at the Undiscovered category. That is referred to the growth of mobile apps on the expense of creating and developing new websites, which sounds very logical. At any case, here are the top websites of 2011 for each category and sub-category:
Classic
Apps
Bing
Blogger
Box
Flickr
Google Docs
Gmail
Meebo
Mint
Pandora
Picnik
Slacker Radio
Yahoo! Mail
YouTube
Fun
Awkward Family Photos
BoingBoing
College Humor
CuteOverLoad
FMyLife
Funny or Die
Hulu
Instructables
Letters of Note
Netflix
Serious Eats
The Onion
XKCD
Info
Craigslist
IMDB
Quora
Snopes
TED
TripAdvisor
Wikipedia
News
BBC
CNN
Legistalker
NYTimes
SI (Sports Illustrated)
Slate
Shopping
Amazon
AirBNB
The Consumerist
Etsy
MenuPages
Restaurant.com
ThinkGeek
Threadless
Yelp
Social
Facebook
Foursquare
LinkedIn
Twitter
Tech
Ars Technica
Boy Genius Report
FileHippo
Engadget
Gdgt
LifeHacker
Mashable
Techmeme
Wired
Undiscovered
Apps
Bellstrike
If This Then That
Imgur
Tout
Join.me
Klout
Fun
Bad Lip Reading
BestSFBooks
Damn You, Auto Correct!
DayTrotter
Draw a Stickman
Eater
Exhibition A
GoJee
Hipster or Homeless
Museum Of Obsolete Objects
The Oatmeal
Nowness
Info
Craft: (Craftzine)
PlanCruncher
News
Kidz Timez
Listverse
Splitsider
Shopping
Broodr
CrashMyPad
KarmaGoat
Kickstarter
Nova Natural
Polyvore
RetailMeNot
SaveUp
Social
Canvas
Chime.in
Erly
Pinterest
Storify
Tech
DuckDuckGo
SpyderMate
The Verge