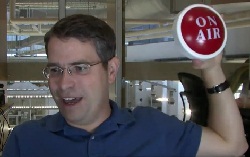 About two months ago, Google held a live Q&A video session with Matt Cutts on YouTube where users can approach directly to one of Google's top search engineers and ask him search-related questions (using Twitter). I want to take advantage of the little slow last few days and (finally) discuss about the video important key points.
In the beginning of the video, Matt is discussing about the recent marketing events that Google is involved at, about the relatively new HTML elements for defining paginated content correctly and about how reconsideration requests became more transparent. The actual Q&A, which i want to focus on,  begins after about 9 minutes (the full video is available at the bottom):
Do +1's have effect on search rankings?
At the moment, Google are still studying the +1 and intend using this in the future as a signal as it looks "promising".
Does Google will count negative meta keyword (not rank at a certain keyword)?
There probably won't be such thing because theoretically it can be a way to silent criticism about the site or company.
How the +1 on ads will affect SEO?
Although it might be useful to have +1 on ads socially, it won't affect the organic search rankings.
Do you find the quality for technical search queries poorer since the Panda update?
The Panda algorithm is trying to return better higher quality content results and it doesn't differentiate if a query is technical or not. At any case, users are welcome to contact Google for suggestions and examples.
Will the age of domains have a preference in search rankings results?
Age doesn't automatically giving a ranking boost, however, if a site has been around long enough it often built up a reputation so that may improve rankings.
Why the Panda algorithm called "Panda"?
There's a software engineer at Google with a last name Panda, so it isn't a refer to an animal but to a person.
What's the recommended priority value in XML sitemaps?
If everything is marked as high priority it won't be taken seriously but if only a few things are marked as high priority it might give them a little more weight.
Why Google is showing (sometimes) sites without the defined meta snippet?
Google is trying to match the best description to the query and therefore if the meta description doesn't fit, Google reserve the right to show more helpful snippets.
How to make sure that sites that steals content don't rank with it?
Fill a DMCA complaint, fill a spam report and make sure you ping Google so it will find your content first.
Does double 301 redirects are OK?
Double 301 redirects are OK, however more than that will probably won't flow the Pagerank.
Does Google follows no-follow links?
In general, no.
Does Google identify automatic redirection with JavaScript?
Google is able to detect that as we get smarter and smarter in crawling and indexing JavaScript.
Here's the full Q&A video session: