In the last few days, i saw some posts in SEO forums and blogs from people who allegedly sensed another Panda update, targeting December 18th-20th as the (range) dates of the update. However, when this assumption was raised to Google's Matt Cutts, he rejected it almost completely.
A little more than a week ago, Google has announced that there will be no more major Panda updates this year. However in the past week, some SEOs (experienced ones) have assumed that there was at least a minor Panda update in spite of Google's statement, basing their assumption that the company has stated that there will be no more major updates (which has a logical base).
"Not Any Panda-Related Changes"
To resolve the issue, the query was brought up to the attention of Google's (unofficial) representative to the webmaster community, Matt Cutts. Matt initially released a Tweet denying that there was any large Panda updates and restating that there won't be any through the end of the year: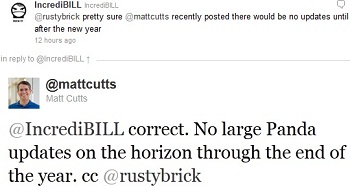 But the SEOs and webmasters were still left unsatisfied- What does it mean "large" updates? Does it mean that small/minor updates could have still happened or possibly will happen? So a few hours later Matt had to release another (more decisive) Tweet to deny any Panda-related changes, explaining he only intended to leave himself some "wiggle room" (when using words like "major" or "large"):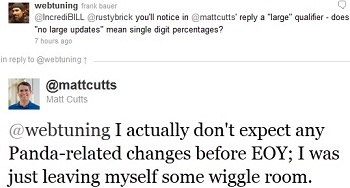 Final Thoughts
So it seems that even if there were some algorithmic changes, they weren't Panda-related. Personally, i didn't witnessed any significant rankings movements that can point out on a Panda update as they occurred in the past, not in my site and not in a few niches i follow regularly.
I think that the reason that even experienced SEOs are so on edge and "Panda-stressed" is because that the Panda algorithm updates really impacted tremendously the webmaster community and because the last one only happened more than a month ago.