After long waiting, Microsoft has finally launched its social networking service So.cl. However, if you thought that Microsoft will present a new competitor to Facebook, Twitter and Google+, you better think again- Microsoft defines So.cl as an experimental research social network project designated for students…
Experimental Social Network Only For Students
As stated on Microsoft Research post, One of the main concepts of the experimental social network (besides it is designated for students) seems to be combining more effectively the web, search and social networking- "Transforming the web and social networks into the new classroom". Well, at least it sounds very experimental…
As for the current moment, only students from the University of Washington, Syracuse University and New York University are able to participate in this "social experiment", while the plan is to add more schools in the future. When i tried to sign up for the service (using Facebook login) i was informed that i am currently on a waiting list and i will receive an invitation "soon".
Design and Interface
The design and interface looks almost exactly like the leaked images from my report last month, with just a few color changes. It has the traditional social network design of three columns (News feed in the middle) when on the top bar there is a big search box (powered by Bing). Here's a screenshot image: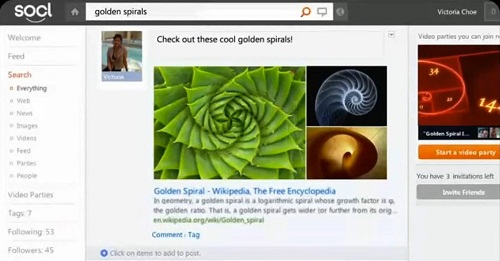 So.cl seems to have all the regular social networking activities like follow people, share posts (with media), watch friend's photos and videos. In addition, there are couple of unique features that allows sharing search results or add few visual contents together (similar to Pinterest Pinboard).
Final Thought
I still can't figure out what are Microsoft's true intention with this "experimental research project"- It isn't clear if the technology giant really intends to approach the students community and create a popular niche social network or it is just intending to run it just for student only at first. After all, Facebook also started as a social network just for students…