While Facebook, Twitter, LinkedIn and Google+ are battling in the social networking arena, another social player might join the party as well and he has a very wealthy father… Microsoft may launch its own social network after testing Socl. Is there room for another social network?
Apparently, Microsoft has been experimenting with a new social network located in socl.com and granted to a selected group of users the privilege of "playing" with it for testing its features and functions. The technology news site, The Verge, has provided a rare glimpse and review about this intriguing social project.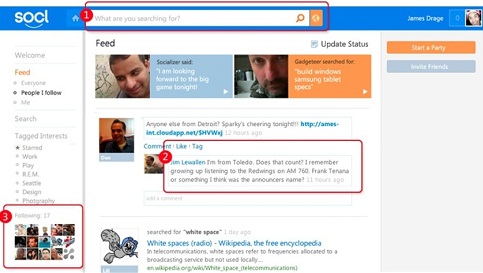 From Tulalip To Socl
Back in July, there were many reports and rumors on the web, that there is a new social networking service by Microsoft called "Tulalip" in socl.com and after just a few hours it went offline. Microsoft attributed Tulalip to (just) a social research the company is conducting.
Now it turns out that Microsoft has tested this social networking "research" with a few limited number of members and replaced the name Tulalip with the much simpler one, Socl, before rolling it out (presumably) to the general public.
From the few screenshots uploaded, Socl has a pretty standard traditional social networking design- The upper bar with the search box and the user profile and the three columns that allow basic navigation on the network in the left side, the main News Feed in the middle and the options to invite friends or "Start a Party" on the right side.
Late To The Overcrowded Party
Its important to mention that at this point in time there isn't any official announcement from Microsoft and it might be possible that it is just a social research that will never go publicly live. The rumors, on the other hand, are suggesting that Microsoft is about to launch it for greater invited-based audience (as The Verge was "hearing").
If indeed Microsoft will launch a new social network, it will enter a highly crowded industry with so many already big and established players and then, the inevitable question will rise: Is there enough room for another social network?