After Cyber Monday has over and broke all sales records, i hope that you eCommerce business owners and online merchants are ready for another potentially heavy sales traffic time that occurs today- "Green Monday". Over the last five years Green Monday was one of the busiest spending days of the year and according to the stats so far, there's no reason why it wouldn't happened also this year.
What is it exactly Green Monday and what its origin? Well, eBay has invented the term "Green Monday" after it became for many consecutive years the most profitable day of the company in December. It is traditionally happening on the second week of December and just a little less than two weeks before Christmas. According to comScore, since 2005 Green Monday is always one of the top spending days of the year: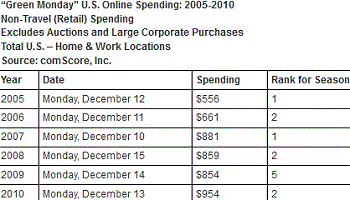 2005- $556 million online spending
2006- $661 million online spending (+18.9% increase)
2007- $881 million online spending (+33.3% increase)
2008- $859 million online spending (-2.5% decrease)
2009- $854 million online spending (-0.6% decrease)
2010- $954 million online spending (+11.7% increase)
We can see that Green Monday was almost each year the first or the second highest online spending day of the season, with the exception of 2009 where it was fifth. We can also see that between 2005-2007 Green Monday has showed steady strong yearly growth, stopped only by the 2008-2009 financial crisis, while in 2010 it returned to double digits yearly growth rate. There's no reason why this year we won't see another strong increase according to the stats this year so far: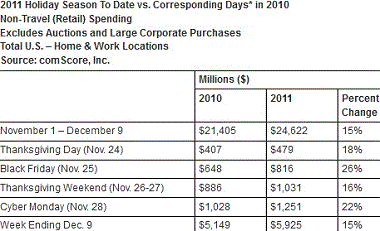 The holiday season has produced up to December 9th close to $25 billion in online spending, 15% jump from last year stats, when the main shopping days (Cyber Monday, Thanksgiving and Black Friday) have showed an even greater increase. It is safe to assume that Green Monday this year will even break the $1 billion barrier as it almost certainly would generate an increase of more than 5% (The gap to $1 billion).
In fact, it is predicted to be so big that FedEx has added 20,000 seasonal employees just to handle the "busiest shipping day in 40 years". For more information about it you can watch this video from ABC News: