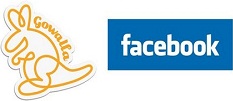 A very interesting deal has been cooked lately and it seems that now it is ready and final- Facebook is buying the Geo-location social networking service Gowalla. It is important to mention that neither parties have confirmed the report yet and declined to comment.
According to a report by CNN Money, a Gowalla's close source has confirmed the acquisition for an unknown sum. The details he revealed so far are that almost all Gowalla's employees would move to Facebook headquarters in Palo Alto while few (if any) will remain at Facebook offices in Austin, Texas.
Gowalla Future?
The Gowalla's team that would move to Facebook's California offices will work to maintain and to improve Facebook exciting new feature (however yet to be broadly launch) Timeline, probably to add more location-based characteristics to the feature by using Gowalla's technology and experience in that area.
Just a few months ago, Gowalla launched a new mobile app and it is still unknown what will be its fate, although i doubt if it will survive- It is offering too many similar attributes to Facebook's mobile app and i don't think that Facebook would leave the two competing against each other for the same audience.
Failing To Compete Foursquare, Declining In Traffic
To put things under the right perspective, Gowalla direct competitor, Foursquare, has about 10-20 more active users it is always growing and adding new social features (like the recent Save to Foursquare button), while Gowalla seems to be more stuck and not managing to ride on the mobile wave efficiently…
Additionally, the company suffered from a traffic decline since the beginning of the year- While six months ago Gowalla had an Alexa rank of 7,600 or so, now it is only 10,000 (and still going further down). Here is the last six months Gowalla traffic rank (June-December 2011):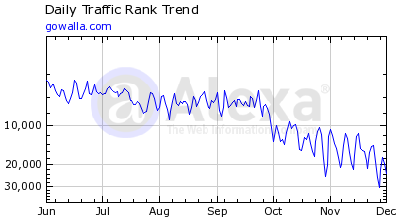 Update (12/6/2011):

Gowalla now officially confirmed that they have been acquired by Facebook and the service will be shut down at late January 2012. They also stated that all the users data will still be available (including Passport, Stamp, Pin data and photos) for export.