If the recent eCommerce holiday season stats have encourage you to start an online retail business or you are already running one as your work from home business, you should understand and be aware of the latest online retail industry and eCommerce trends. In this post, i will review a recent webinar of comScore for this purpose.
In the webinar, insights and analysis of the U.S. eCommerce industry for the third quarter of 2011 have been presented. The data have been gathered from comScore's panel that contains two million internet users worldwide. Here are the main key-points of the webinar:
Overall eCommerce Sales Growth
Consumers are spending more and more money every year at eCommerce websites. Except for 2009 where there were negative growth rate (-2%), when the economy crisis was at its peak, every year since 2002 has showed a meaningful eCommerce sites spending increase. During the firsts three quarters of 2011, we can even see back again a double digits growth rate (+12%).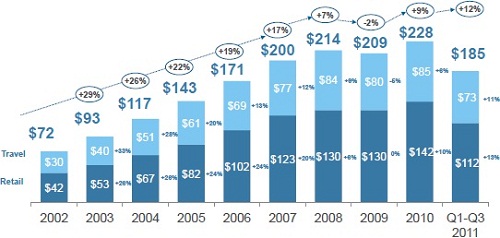 eCommerce Sales Growth By Categories
eCommerce categories with at least 15% growth rate in 2011 third quarter:
Digital Content
Event Tickets
Jewelry
Electronics
eCommerce categories with 10%-14% growth rate in 2011 third quarter:
Books and Magazines
Apparel and Accessories
Computers
Video Games and Consoles
Consumer Goods
Sport
eCommerce categories with 5%-9% growth rate in 2011 third quarter:
Misc. Gifts
Office Suppliers
Home and Garden
Furniture, Appliances and Equipment
Industry Concentration – Top 25 Sites Vs. Others Share
The top 25 eCommerce sites (67.9%) have gained 1.5% market share on the expense of all other eCommerce sites (32.1%) in 2011 third quarter. Since 2010, the balance has remained more or less the same- Top 25 sites holds about 67%-69% market share and all others holds about 31%-33%.
Flash Is Very Much Alive In eCommerce Sites
Unlike the general direction Flash is heading, it appears that many Flash eCommerce sites are flourishing: In October, the most popular eCommerce Flash site, Woot, had a 32% visitors increase. Zulily, second most popular, almost grabbed the premier after had an increase of 153%. Other eCommerce Flash sites that had significant visitors increase are Totsy (+813%) and OneKingsLane (354%).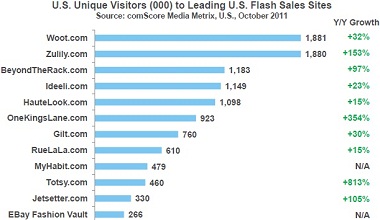 eCommerce Visitors Via Mobile
In the third 2011 quarter, out of the 234 million mobile subscribers in the U.S., 87 million (37%) have accessed eCommerce content with their mobile device, representing an increase of 12% compared to the last quarter.
eCommerce Mobile Visitors Activities
33% of mobile users are visiting eCommerce sites to find the physical store location, 21% are comparing product prices and 20% are looking for coupons or deals. Here are the most common eCommerce mobile activities: