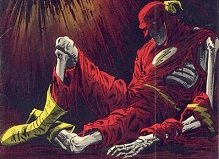 Adobe is (finally) officially throwing the towel in a battle the company has already lost way back and giving up on developing the Flash platform for mobile devices. The company has announced that it will still develop Flash for PC but would focus on HTML 5 for mobile from now on.
Lost The Battle Upfront
Although Adobe has announced it just now, the Flash platform has been dying slowly for the past few years. Its biggest disadvantage is that search engines can't crawl and read Flash contents properly so many webmasters have tried to avoid using it completely or at least minimally.
But the biggest hit for Flash was when the late Steve Jobs stated that Apple won't support Flash in its mobile devices because it has no future (watch video at the bottom). This actually signified the end of Flash for mobile because it meant that millions of people worldwide who uses iOS, won't see Flash.
When considering the enormously growing number of mobile devices that being sold and that mobile developers prefer working with HTML 5, Adobe's decision seems very logical.
Not Surprising Announcement
I don't find Adobe's announcement too much surprising. The company already was progressing more towards HTML 5 while focusing less on Flash, in the past few months:
In August, Adobe Edge was launched- A designing tool for JavaScript, CSS3 and HTML 5 while Flash has been left out.
In September, Adobe launched Flash Media Server– Software that converts Flash contents to HTML 5.
In order to keep the company's prestige as one of the main producers of creating and designing tools, Adobe needs to keep releasing HTML 5 tools and in addition gradually neglecting Flash for PC, as it also beginning to fade away…
Video: Steve Jobs Talking About Flash In 2010