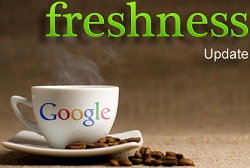 I have to admit that when i was first reading Google's Amit Singhal announcing the Freshness update and that it is going to affect 35% of all searches i stopped breathing for a moment. I asked myself if we are ready for another major update that supposedly going to change the web again after Panda (that "only" affected 12% of searches)…
However, the eventual affect of the Freshness update was actually much more subtle and certainly less drastic from the Panda. I already discussed my first impressions from the Freshness update yesterday and today i want to provide some real numbers from reliable resource.
The search and marketing analytic provider Searchmetrics, which is one of the reputable search analysis companies online, has released winners and losers lists of the Freshness update. As my first impressions were, the numbers are much smaller than the initial Panda update, although there were few sites who gained/suffered a drastic change.
Searchmetrics lists are long and unsorted so i took the liberty to organize and extract from them the top 10 winners and losers lists myself. Here are they (you can watch the full lists in this Searchmetrics post):
The Winners – Top 10
Indeed quality websites with frequently refreshed content had gained from the update. Among the famous names that didn't enter the top 10 winners list are Google's video site YouTube (+27.04%), the social network My Space (+15.26%), the celebrity gossip blog perezhilton.com (+16.35%) and the social bookmarking site Scribd (+18.27%).
1.  Rockhall.com – +72.07%
2.  Hellomagazine.com – +52.97%
3.  Nationalcar.com – +50.45%
4.  Southwestvacations.com – +50.20%
5.  Allthelyrics.com – +49.49%
6.  Allthingsd.com – +49.13%
7.  Scottrade.com – +47.78%
8.  Java-gaming.com – +46.07%
9.  Ny.gov – +40.61%
10.  Stars21.com – +36.78%
The Losers – Top 10
Surprisingly, there is much shorter list of losers and their traffic drop percentages were also smaller. Among the famous names that didn't enter the top 10 losers list are usmagazine.com (-17.51%), American Express (-16.87%), Radio Shack (-23.61%) and even Google's blog platform Blogger (-20.33%).
1.  The570.com – -54.28%
2.  Univision.com – -44.02%
3.  Stylelist.com – -43.81%
4.  Lyricspick.com – -40.43%
5.  Newseum.org – -38.65%
6.  Hamstersoft.com – -38%
7.  Justinbieberzone.com – -32.27%
8.  Realtor.org – -30.25%
9.  Plentyoffish.com – -29.41%
10.  State.ny.us – -26.04%