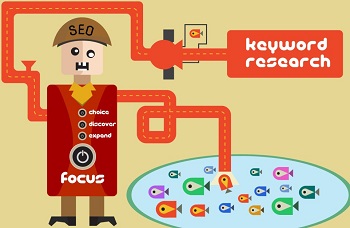 The process of selecting SEO keywords can get overwhelming and costly, but this can actually be done using free online tools. Here is a step-by-step guide to help you find the best keywords for your website or blog so you won't have to spend anything for this task.
Brainstorm Target Keywords
The first thing you will need to do is list topics or themes that are related to your business or the products or services you offer. For example, a flower shop business will have a list of keywords like 'flower shop Los Angeles', 'flower shop California' or 'best flower shop Los Angeles'. During this stage, there is no right or wrong, just focus on collecting as many possible relevant keywords as you can think of. You can get ideas from magazines or industry journals, your marketing materials, brainstorming with your sales team or staff, and checking out which keywords your competitors are using on their websites.
Ubersuggest is a free tool you can use during your brainstorming stage. Start by typing in a keyword or topic and you will be provided with several keyword suggestions related to what you entered. If there is a term that you want to investigate further, you can click on that term to receive more suggestions using that term as base.
To illustrate, let's say that your business is a flower shop that specializes in wedding floral arrangements. When you can type in 'wedding flowers', you will notice that terms such as 'wedding flowers los angeles' will also be included in your list. You can click on that term's link to drill down and find more specific terms you can use.
Choose the Most Relevant Keywords
In the second step, choose the most relevant keywords from your list. In selecting keywords, put yourself in your potential customers' shoes and imagine what terms they will probably use when looking for your product or service. At the same time, also think which terms would most likely drive sales. More specific, long tail keywords are strongly recommended, as they may result in higher conversions.
Check on Volume and Competition Using Google's AdWords Keyword Planner
After you have determined the term you would like to focus on, the next step is to figure out whether that term gets enough monthly searches so it is worth targeting and if it is possible to rank for that term.
Sign in or create an account for free with Google Keyword Planner. Choose 'Search for new keyword and ad group ideas' once you are logged in. On the succeeding page, enter in the keyword or phrase that you would like to target. Make sure to select the 'Keyword ideas' tab, and not the 'Ad group ideas' tab. The keyword ideas tab will provide you with very important information about your chosen keyword or phrase – the average monthly search volume and the level of competition.
Look for Keyword Variations and Related Terms to Add in Your Content
With Google's algorithms becoming more sophisticated, websites that are able to cover all angles of a topic have a tendency to rank high. It is recommended to have many different variations of your keywords and phrases, adding synonyms and long tail keywords that are related to your topic.
You can use Google's Related Search function to see words or phrases that Google considers relevant to your target keywords. Just enter your chosen keyword into Google Search then scroll to the bottom of the page to see the section 'Searches related to…..' While these phrases may not have enough search volume for you to target them as your main keywords, it is good to add these phrases to your web copy to capture related long tail searches.
With these simple steps that involve free online tools, you can now start incorporating keywords to your website content so you can improve your SEO rankings. And if you want to further master SEO and learn more techniques, signing up for an online SEO course and certification is not such a bad idea either.
Michelle Rubio is an experienced SEO copywriter and blogger since 2010. She has been working with various businesses, big and small, in the United States, UK, Canada, and Australia. You can see more of her works and experiences in her LinkedIn profile.