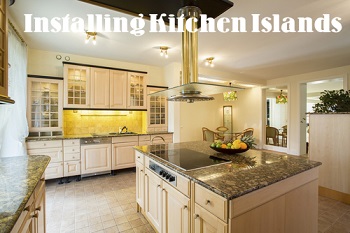 Counter islands are the perfect way to add much-needed counter space to a larger kitchen. They can help you make the most of your space while providing a comfortable eating area where your kids can have an after school snack or get help with their homework while you work on dinner.
A relatively uncomplicated DIY project, a counter island is also the perfect way to personalize your space so it works better for your family. Before you begin, it's important to understand the layout of the kitchen.
Supplies
measuring tape
pencil
straightedge
tape line
power drill
screws
pan-head cabinet screws
screwdriver
carpenter's level
hammer
nail set
long finishing nails
wood putty
stain
cotton balls
Instructions
Mark desired location:
There are two ways of marking out the desired location of your counter island. You can simply set the island where you want it, or measure it out so the island sits in the center of your space. Begin by removing the drawers and cabinet drawers from your cabinet island and then choose your method.
Method 1:
Choose a location for your island and set it in place.
Check that you have sufficient room to access each side of the island as desired and then trace around the bottom.
You may wish to ensure you have lined up the sides perpendicularly to your walls.
Remove the island from its spot and set the toe-kick platform into the outline of the island.
Screw it to the floor then attach your cabinets.
Measure outward in a straight line from both the sink wall and the cooktop wall.
At the intersection of these lines, mark the center of your island. Use a level as a straightedge to mark points on each side and indicate where the toe-kick platform will be placed.
Install the toe-kick platform and screw into place before attaching cabinets.
Secure cabinets to floor:

Once the toe-kick platform is secured, place the central cabinets on top and attach to the base.
Attach the outer cabinets and screw into place.
Clamp the panels into place to secure the cabinets. Remember to use panhead cabinet screws to attach cabinets together and to the floor.

Attach trim:

Once your cabinets are in place, you can add trim and hardware and slide drawers into place.
Attach cabinet doors and check that all drawers and doors function as intended.
Place stools or bar chairs along the edge to be used as an eating surface and make sure they are the right height and have plenty of space to move.
Now that your kitchen island is installed, you are ready to entertain! Invite some friends over and let them snack and chat with you while staying out of the way of your food preparation.
Counter islands are the perfect addition to any kitchen if the owner desires the ability to prepare delicious meals without abandoning their guests for large gaps of time throughout the party.
By keeping guests nearby without interfering in your productivity, you can ensure everyone has a great time – yourself included!
Mark Clair is a 46 year old interior designer, decorator and planner who works for Heritage home designs in Toronto. He is a prolific writer and enjoys putting his thoughts into words on pretty much anything around that evokes an interest in him. Happily married and the father of a new born girl, Mark is now exploring the many little joys and challenges of parenthood. For more information, follow him on twitter.