Your wedding is one of the most important days of your life and with the average wedding in UK costing £21,000 it stands to reason that you would want to make the most of it and capture every perfect detail. A wedding video gives you the opportunity to look back at your special day and relive your favourite moments and for this reason, many people see hiring a videographer as an essential part of the wedding.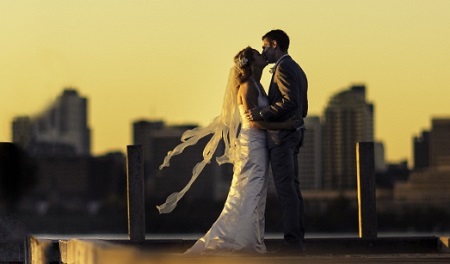 However, while wedding videos continue to be a popular with couples, we are seeing a shift in focus. Instead of the traditional wedding video style, many couples are now opting for cinematic style wedding films to really bring their theme alive.
So, what is a cinematic wedding video and how does it differ from the more traditional films we're used to seeing?
Telling a story
The key difference in the two styles is in their approach the capturing the day.
A traditional videographer shoots continuous footage of the day in a documentary style. The video is presented in chronological order and usually covers the whole day, from the ceremony to the speeches and the first dance. For many people, this is exactly what they want as it allows them to relive the day exactly as it happened. However, the end product can lack creativity and focus.
As the name implies, a cinematic video goes beyond just chronicling the events of the day and instead documents your wedding day in the style of a movie. The aim is to tell a story – the story of the day and the story of you as a couple.
Like any good movie a cinematic wedding video will have an introduction, climax and resolution. Key moments are captured and then these are substantially edited to create a narrative and really capture the essence and emotions of the day.
What the video covers will depend on you and your cinematographer, but it could include highlights of the day, those little details you worked so hard on, interviews with guests and audio from key moments such as the vows and speeches. Most cinematographers will want to spend some time with you so they can get to know you and identify the themes and styles that best reflect you as a couple and your plans for the big day.
One thing to be aware of is that this style of wedding video tends to be significantly shorter in length than more traditional videos. However, this is not necessarily a bad thing. Nobody wants to sit through an overlong video – instead you have the opportunity to watch a creative interpretation of your day that has been designed to have maximum impact.
Ready for your close up?
Brides (and grooms!) want to look their best on their big day and cinematic wedding films have a big advantage in this area. Whereas traditional videographers tend to use just the one standard camera and lens, cinematographers use different angles and lenses for different situations. Some even have more than one camera person filming your special moments.
This approach means that you get a unique feel and high quality result. It also means you and your other half look great on camera – as do all those little touches you spent so long perfecting.
How to choose the cinematographer for you
So, you've decided that a cinematic wedding video is for you, but with so many cinematographers out there, how do you decide which is the best one for you? The best way to gauge a cinematographer's style is to visit their website and look at highlights of previous weddings that they've covered. Once you've found someone with a style that you like, arrange a meeting so you can get to know them better. It's important that they understand your vision for your wedding day. And of course ask for those all important testimonials from satisfied customers.
With weddings costing so much it can be tempting to view the wedding video as an unnecessary luxury. However it can be a fantastic memento of the day and 98% of brides who decided against a video say that they regretted it afterwards. Rather than cutting the video completely, why not make sure you get the most impact for your money and ensure it stands out from the crowd by going for a cinematic approach. It will provide you with a fantastic personal reminder of your special day that you and your family will want to watch for many years to come.
Martin Stanesby is the Founder of Essex based wedding videographers – Trapdoor Films. Martin has a wealth of experience in videography and production and prides himself on his passion that he includes in every film.