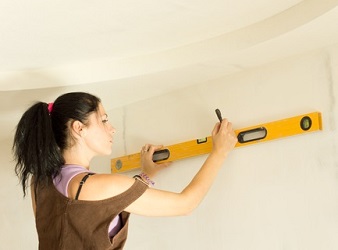 With rising property costs and the expense of moving, many people would rather work with what they have rather than moving house to obtain their perfect home. At the same time, as demonstrated by the popularity of shows such as Super Scrimpers and Kirstie's Fill Your House For Free, there is a growing trend towards 'doing more for less'.
So, how can you transform a tired room without breaking the bank?
Cut the clutter
One of the first things to consider when looking to improve a room is getting rid of any clutter. Decide what you really need and remove the rest – and try to be ruthless! Consider selling what you don't want at a car boot sale to help fund the rest of your improvements. For the objects that are left, invest in some clever storage solutions to give the room a sleek, spacious feel.
Make a feature wall
You don't need to change the whole room to achieve a brand new look. Why not make a feature out of one wall? Select patterned wallpaper, or, to keep costs down even further, simply choose a bold coloured paint. Alternatively, you could use colour to pick out features in the room such as the inside of book shelves, alcoves or fixtures and fittings. You'll be surprised at the difference a splash of colour can make to a room.
Rearrange the furniture
This has to be one of the easiest ways to transform the look of a room. Even a slight change to the layout of your furniture can add new life to a space. It's usually a good idea to plan your new layout before you start, but don't be afraid to make adjustments as you go along. Read some more tips on how to arrange your furniture to get the best effect.
Let There Be Light
Light sources, whether natural or artificial can have huge impact on the look and feel of a room. Good lighting can instantly improve your surroundings. You may need to experiment to find out what works best in your home, but some of the following tips should help you get the best effect:
Make the most of natural light sources – find out how.
Avoid overhead lighting where possible as it can often look too harsh. Instead use floor lamps, spot lights, fairy lights, uplighters and even candles to add atmosphere and interest.
Consider what you use the room for – and adapt your lighting accordingly.
Accessorise, accessorise, accessorise!
New accessories can really change the look of a room. If you have neutral furniture and decor, adding accessories in one or two key colours can add a lift. From curtains to soft furnishings to rugs and even photo frames – add as little or as much as you like to get the desired effect. The smallest details can make the biggest difference.
These are just a few suggestions, but there are so many other things you can do to transform your room that won't cost the Earth. The key is to experiment until you get the look you want.
Your perfect pad awaits.
Dominic Farrugia is the Co-Director of Regency Plaster who specialise in plaster restoration since 1988 and serve Enfield, London and the rest of the UK.