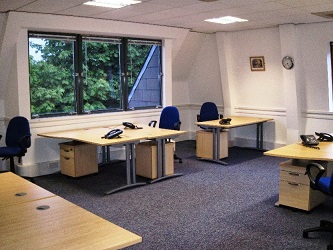 Choosing the best place to rent for your small business' office can be challenging because of increasing rents, noise and parking regulations, and general building restrictions. Evaluating both your short term and long term business goals will help you make an effective choice about where in town to rent.
Looking to Grow?
Many businesses choose office space based on their current size and don't anticipate future growth of the company. Evaluating your own yearly growth reports will help you accurately predict where you'll be in terms of size for the next few years. Renting an office on a 5 or 10 year lease and then having to forfeit the lease because of size restrictions could be costly and could ultimately restrict your growth potential.
Cheaper Commute Times for Important Staff
Keeping your key team players happy is good business practice. Renting an office considerable distances from your most valuable employees' homes could make commute times longer for those closest to your company's success. Try and find a location that makes commuting easier for your best performers to lower their own gas bill and travel times each morning.
Brand Management
While you may not think a business' outside appearance affects what clients think, renting an office in a dangerous part of town or in a noisy location may decrease your brand's value. Your office should communicate non-verbally what you represent as a business.
Parking for Employees
Depending on the size of your company, finding a location with ample parking may be an integral part of your decision. On-site company parking is a big benefit and can save employees hundreds of dollars a year by not having to pay for metered parking or seasonal lots. On-site parking may not be easy to find in a desirable downtown location though and depending on your branding efforts, it may be a worthwhile sacrifice.
Sharing Costs
If you're a new business, owning your own office can be costly. In addition to rent, there's general maintenance fees that have to be considered. If it's your first time getting your own space, consider sharing an office with an existing company to help save on both rent and utility costs. While you may not have the luxury of a corner office just yet, saving money by sharing space with another company in a desirable location can help you put available capital into other areas to help grow your business.
Higher Rental Rates Later
In high demand locations it's not uncommon for landlords to regularly increase their leasing costs every few years. If you'd like to lock in a price so that you're protected when it's time to renew your lease, talk to the current landlord before signing. Rent ceilings are common in places like San Francisco, but other cities don't have the same protections. Leasing a great location and then finding out your renewed lease price is prohibitively expensive is a scary proposition.
No business location is going to be perfect or come with all of the amenities you'd like, but with small sacrifices and knowing what features are essentials to your next move you can explore different options both independently and with the help of a realtor.
This article was contributed by Trojan Place – a modern, upscale residential living and commercial office space in the heart of Jenks, Oklahoma.