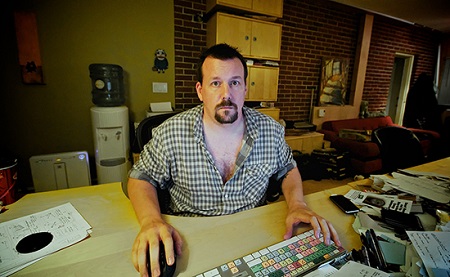 So, you work from home, which means that you may get cabin fever. Why not make your work area something different from the rest of your home with some new design ideas? Below is a list of creative ways others have made their home office something special.
1) Photo Collage
A simple idea is one that comes from your school days. A framed collage of your favorite photos. It's something that is easy to do, and you can use whatever photos you choose. If it inspires you, motivates you, relaxes you, or reminds you of something, then put it up.
2) Different Chair Styles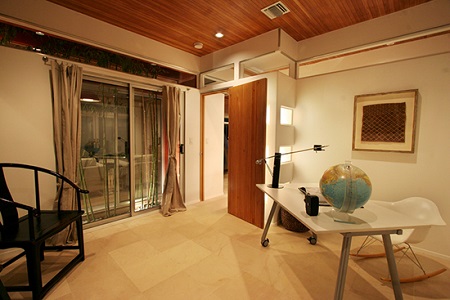 OK, so a lot of people love matching chairs. Go a little wild and crazy here, by not matching chairs. This adds a little chaos, which is needed in the work area at times. It puts a quirkiness to the room, and puts a little indecision into picking which chair to sit in.
3) Wire And Clothes Pins
Get some wire, hang it up on the wall, then get some clothes pins and hang up some pictures for motivation and inspiration. Change the pictures as you wish, as this idea is versatile and flexible. You may find yourself procrastinating by changing pictures… Just a warning I'd choose to share.
4) Scarf Art
Do you have an old scarf that is too attractive to throw away, but isn't something you'd wear any more? Transfer that vintage cool from the back of your wardrobe and into your home office. Simple put the scarf into a frame, and instant retro artwork.
5) Storage Bookcase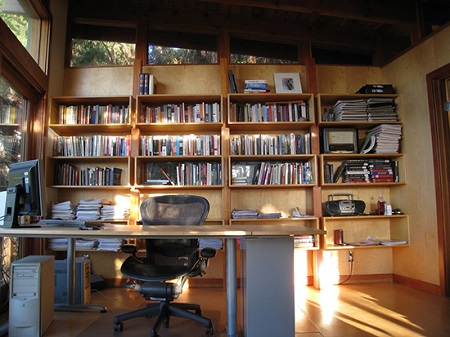 If you have the room and a lot of clutter laying around, would you like an idea on how to change that to something more stylist? Fill up a space with a bookcase with compartments, and use boxes as drawers. It'll clean up the mess, keep you organized and have your work area looking good.
6) Purple Ottoman
Your home office may also be an area for living and relaxation. Somewhere that you put your feet up after returning home from 2 meters away. A purple Ottoman will add an element of comfort to the room, a place to sit on or put your feet up with a good book.
7) Room Divider
There may not be enough rooms to have one specifically as your office, and this could be an issue. But, as all issues do have, there's a solution. Using a room divider can make two rooms one, then removed to make one room from two.
8) Artworks On A Bookshelf
Put up some shelves, and get some of your favorite artworks frames. It's an easy and simple way to add some color and life to your workspace. It's up to you how much you want to put up, or how little you wish to use. As your tastes change over time, it's simple to change artworks.
Conclusion
So, there's some small ideas for changing your home office into something more colorful, inspirational or just simply "pretty". Perhaps you could mix some of these ideas and think of some of your own unique designs?
By Jessy Troy
Jessy Troy is a stay at home mom collecting her favorite crafts at DIY gadgets blog. Follow me as @JessyTroy.