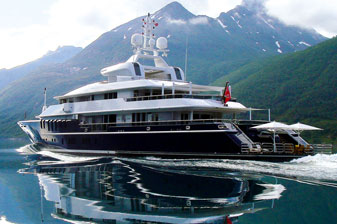 The Superyacht business is booming. These huge luxury craft are owned by the sort of people that are never going to feel the pinch in times of recession. As these massive yachts have gotten bigger and bigger, they have entered the public imagination to the degree that many young gap year students and would-be sailors dream of landing a job on a billionaire's private cruise ship.
Here's a short guide on what to expect from this glamorous and often rigorous line of work:
Job Roles And Experience
Aside from the high end roles of the captain and his select assistants, the main roles you'll be applying for on a superyacht are going to be service jobs like a chef's assistant or a maid, through to more hands on positions as a deckhand or engineer. It's safe to assume that as a beginner, you won't have any experience or qualifications, so the best bet is to start working as a deckhand. It's not going to be easy, but it's probably the most realistic way of getting aboard and earning a wage.
Qualifications
Let's get this out of the way first: If you aren't qualified, you won't get a job. Competition in this industry is fierce, and you're going up against people that have qualifications. You need to get MCA certified (Maritime and Coastguard Agency) first and foremost.
There are many MCA certified courses, ranging from basic ship safety and medical procedure right through to complex multi year degrees in engineering and seamanship. You need to make some enquires and at least get a very basic certificate.
Applying For Work
Sometimes, the academy that you've been qualified through will be able to help you with recruitment. The more serious and detailed your qualification, the greater chance of finding a position. Otherwise, it's a case of simply handing out CVs and asking at marinas. The superyacht world relies a great deal on referrals, and getting a foot in the door can be tough. If you're really dedicated, you could research where there's superyacht berthing going on, and spend some time there in a part time job whilst you make enquiries.
What To Expect
Life on a superyacht is very cramped and stuffy, and you can expect some long shifts and hard grafting when guests are onboard. If you can put up with this, then not much can beat the tropical scenery and wild nightlife that the world of luxury yachting has to offer!
Wages
Superyacht wages vary due to experience, yacht size, and the position held. A junior deckhand abroad a small yacht could earn €1,500 – €2,000 but with experience and a more prestigious craft, this could easily double. In addition, if you're away from home for extended parts of the year, you might qualify for a huge tax break.
The Experience Of A Lifetime
Working aboard a superyacht requires a great deal of persistence to get a foot in the door, and put up with the long hours and cramped conditions. If you can endure these conditions, you could end up with the job of a lifetime.
Wendy Lin is a wife, mother and successful female entrepreneur. She is an environmentalist and a female rights activist.