Installing your own home security system is simple, quick to do and can save you a lot of money over having one installed. In a wireless system, sensors are placed on windows and doors and use a wireless transmitter to send information to a main panel. Unlike the wired system, a wireless system does not require much drilling through floors or walls and may not require any drilling at all.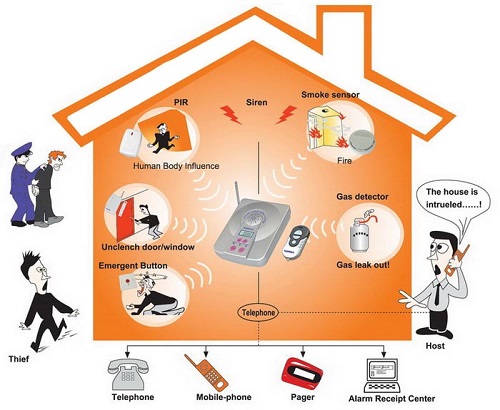 Some homeowners are not enthused about having holes drilled in their house and renters do not have this option but may still want the peace of mine of a security system. A wireless system is the perfect answer. Surveillance cameras and motion detectors can be added if desired and will work well with them. Some concerns are with battery life and reliability in a wireless system, but these systems have advanced a great deal since they first came on the market.
Now, they are equipped with lithium batteries which have a lifespan of up to ten years and the control panel of a wireless system checks on a regular basis to assure that the signals are functioning properly.
Installing the Control Panel
The first thing you have to do when you come home from the store with your wireless system is locate where you want to place the control panel. Remember this needs to be located within easy access of an electrical outlet. While it may be convenient for you to locate it next to the front door, it would be convenient for an intruder also, so do not place it where it can be found easily and disabled. A control panel with battery backup is an excellent idea.
If your house loses electrical power or if an intruder disables the electrical source, you are still protected. Mounting the control panel is not difficult. A drill and a stud finder is what you need. The panel must be securely fastened to the wall. Window and door sensors come in many shapes and sizes as well as price ranges. The sensors are broken into two parts, the part that mounts on the inside of the window and usually has an adhesive backed magnet and the part which is actually a transmitter that mounts to the outside of the door or window.
Once installed, you want the two parts of the sensor to be in direct alignment with one another, so check this carefully before you actually install them. Attaching the sensor is not difficult. Shut off the control panel and install the battery in the sensor's transmitter before you mount it.
Motion Detectors
Motion detectors are an important part of your do-it-yourself home security system. While they are an easy installation, you need to concentrate on placement. You want to cover the widest area without sacrificing any part where motion could be left undetected. For instance, putting your motion detector up high in one corner of your room and allowing it to sweep the room will most likely give you the best coverage.
Make sure it is high enough so that pets do not set it off in the middle of the night or when you are away from home. This is perhaps the easiest installation because you simply install the battery and screw the detector against the wall. They come equipped with a hinge that allows for adjustment after it is mounted.
Newegg is a trusted electronics site that has been around for a long time. A security system for your home includes the control panel with one set of sensors for the door and window, and one for motion detection as well as a remote alarm that will wake the neighbors. The system can be expanded with a number of accessories. The transmission is wireless and has an excellent range. For convenience sake, the remote can be used to turn it on and off.
Simplisafe is another complete home security system that includes wireless sensors that have a wide wireless transmission range between the base unit and sensor. If you want their monitoring plan there is a monthly fee but it is not required but no contract involved. The sensors are merely plugged in and are easily mounted. The unit is equipped with a long-lasting battery that makes it worry free.
Logitech offers a surveillance system software that takes a short time to install on your computer. You can add on cameras for indoor or outdoor coverage. You can turn your computer off and the system still works and notifies you on your cell phone if it has been disturbed.
Piper is a complete wireless security system. It comes with a camera, an alarm and a motion detector. The motion activated sensor has a wide range of detection and includes a microphone with audio and a loud siren. As an added attraction, some of the sensors even check the temp. A backup for the battery makes it complete.
iSmart Alarm company makes a good system that is cheap, works and it is easy to use. It includes a number of features including a motion detector, sensors for doors and windows and clips that attach to your key chain. It also includes a built-in panic button. A camera to complete the setup is available as an option. There are many do-it-yourself wireless kits available on the market. Some are more elaborate than others. Some include a panic button for your protection.
What you choose depends on your needs but all of them allow a do-it-yourselfer to install a fairly sophisticated home alarm system. Depending on your budget, some kits allow for monitoring through your cell phone or tablet when you are not at home.
Max Biden is a writer for Security Options in Oklahoma City, OK. He likes to take pictures and is a super amatuer cyclist along with knowing things about technology.