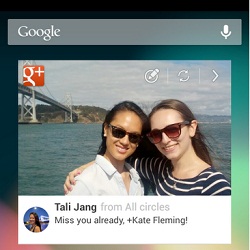 Google+ has an established user base of over 100 million active users, many of which through mobile devices (perhaps most of them). A lot of those users also runs some Google+ page(s) for their businesses or other altruistic goal, and up until now it wasn't possible to manage those Pages through the network's mobile apps.
To amend this encumbering situation for page admins, the Google+ team decided to grant the uber-desired possibility of managing pages on-the-go as part of the new Google+ mobile apps for Android and iOS release, in addition to a few more improvements.
As Anish Acharya from the Google+ team posted, the new version of Google+ mobile apps now allows page owners the option to post updates, share photos and engage with their followers. Once users with pages sign-in to Google+ through the mobile app, they will be able to choose which account to access (their profile or pages):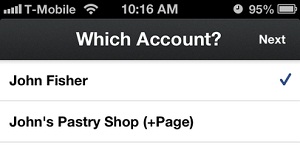 After choosing a page, the user is capable of wielding the page just as a personal profile- post status updates, comment on other accounts' updates, share photos instantly, add/remove others from Circles and even use the Events feature which had been presented in June.
But in spite of the almost-divine page management addition, the app still holds a major drawback. Once the user has chose an account (page/profile), the only way to switch to another page or profile is to completely log out and then sign back in and choose all over again the requested account.
That can be extremely irritating for people who are regularly needs to switch back and forth between their personal profile and their page, and for people who runs several pages. I don't think that a simple switch account button, like Twitter app has for example, is too much to ask and I hope that on the next release it will be available.
More on the new app:
For iOS users- Google+ app now has iOS 6 support, it's now adjusted to iPhone 5 bigger screen and users are now finally able to edit posts. For Android users- the "Find People" feature has been improved to offer better discovery.
Get the new Google+ mobile app for Android from Google Play and for iOS from Apple App Store.