In so many ways Bing is a much better search engine than Google. Well… Except for the small thingish of, you know, search… I mean, Microsoft's search engine does offer friendlier communication with webmasters, its image search design is more appealing and its social integration is just way better.
Don't want to be picky or anything, but now if only they could also improve, just a bit, the quality of their search results…
So until that day where you'll see headlines in the blogosphere like "Bing Launching Super-Awesome Algorithm Update" or "Binging Is The New Googling", you'll have to settle with a few cosmetic improvements that perhaps polish the product but don't really changing its fundamental essence.
Moving forwards with the same trending, Bing rolled out yesterday a new social feature which enhances the integration between the search engine and the largest social network around, Facebook. Through this new feature, users can now contact their Facebook friends directly from Bing's social sidebar.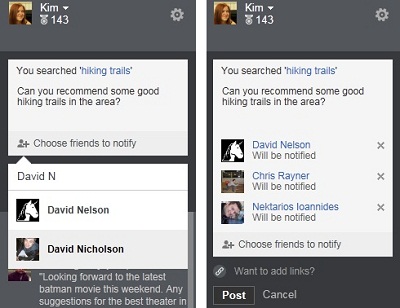 Basically, when searchers would type some comment or a question for their friends on Bing's social sidebar, they will now have the possibility to tag specific friends (up to five for each post) that will be notified about that post on their Facebook account.
The idea behind this update is very logical- When you search for something on Bing but you feel you need some additional personal recommendation, instead of leaving Bing, entering Facebook, ask what you want, wait for an answer and then return back to Bing, all this process can now take place in one location.
Admittedly, this is a small but yet a great social addition to Bing which will definitely make things helluva lot easier and more convenient. However, unfortunately for the Bing guys, I doubt if that's what will break the Google tyranny. To do that, the search engine needs to innovate in (surprise!) actual search capabilities.
By the way, ironically if Bing will produce better quality results we might not have to ask our friends so many questions…