Boy, those guys do everything together… Just a day after Yahoo presented its new fantastic image and video search, its search alliance partner Bing introduces an overhaul of its own for image search. This update comes just a couple of weeks after Bing new social interface went live.
Bing stated on a blog post that image searches constitutes as 7 percent of the total number of searches and that Bing "always been known for its great image search". The truth is that although Bing was NEVER known for its great image search, the new interface looks pretty awesome!
Just as on the new Yahoo image search, also on Bing image search homepage appears the top most recent trending image searches. Even though I think that Yahoo's trending image searches feature is better designed and runs smoother, it's still a useful good-looking feature and more importantly, this feature isn't available on Google.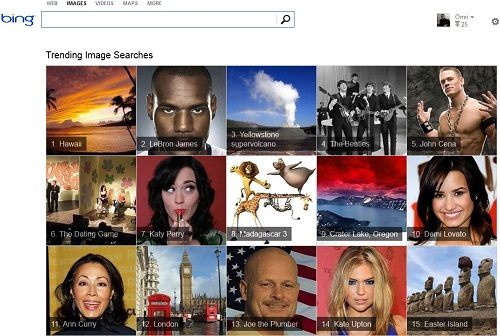 As for the image search results page. Bing has reduced all the white spaces between the different image thumbnail results to exploit fully all the screen real-estate, which now makes the results page to kinda look like Pinterest (which is a very positive thing).
When hovering over an image result, the thumbnail expands slightly more and offering few additional details (title, resolution, file size, file type and URL). On the right side of the page appears a column with related topic recommendations which grants another layer of image discovery.
On the top of the page below the search box, there's the "Filter bar" in which the user can define the search based on size, color, type, layout and people (to search "just faces" or "Head & shoulders") parameters. Below the Filter bar appears a list of search suggestions which can assist the user define a more specific term for his query.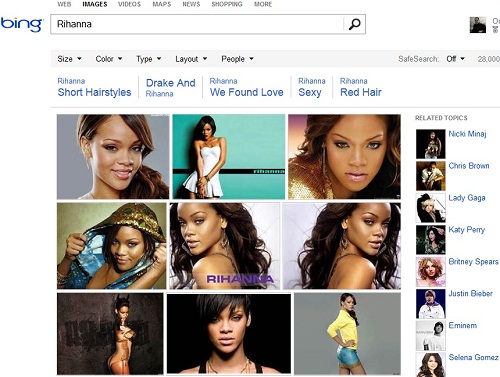 When clicking on an image it opens up on some gallery-type tool, where the user can browse through the different image results, find more sizes for the certain image and discover related searches. Below the gallery tool, the user can browse the page where the image is located.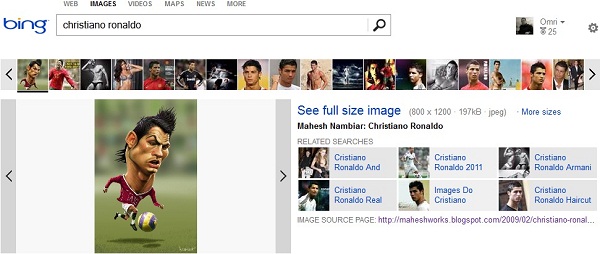 Bing new image search is definitely an improvement, however, I do think that Yahoo still offers a better image search experience. Oh well, Bing can at least comfort that Google's image search just became the lousiest among the three leading search engines.