As we're in mid-June, it is the time to overview the search engine industry state and changes over the passing month. In this post I will cover the search engine market share for May in the U.S., Canada, China and globally.
Some of the major search events that may had an impact on users in the last few months are the roll out of the Penguin algorithm on late-April and the Knowledge Graph implementation on mid-May by Google. The new Bing social interface went live only couple of weeks ago, so we'll have to wait for next month to see its effect.
comScore – U.S.
According to the latest comScore report, while the overall U.S. search requests in May went up by 2% (to 17.5 billion search queries), there weren't significant market share changes. Meaning that Google is still far ahead and even slightly reinforced its dominance by taking additional 0.2% of the market and stands at 66.7%.
Bing remained flat with 15.4% as its partner Yahoo fell a bit by 0.1% to 13.4%. Overall, the Bing-Yahoo partnership still doesn't generate any real fundamental change as it's holding 28.4%. Ask network kept its 3% share and AOL lost 0.1% and holds 1.5%.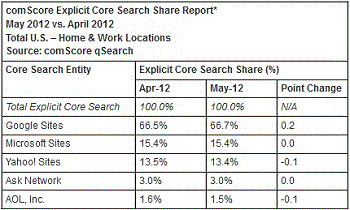 Chitika – North America (U.S. & Canada)
Unlike comScore, Chitika is indicating about some serious changes on the North American search engine market in May. Although Google remained by far the most popular search engine, it actually lost 3.2% share, landing at 73.5%.
Yahoo, which still placed as the second most popular search engine, rose by nearly 2% to 12.5% as Bing grabbed additional 0.8% climbing to almost 12%. Ask and AOL shares stayed essentially unchanged with 1.5% and 0.7% respectively.

StatCounter – China
In China, the search market is perhaps much more interesting than in any other region in the world as it's one of the few in which Google isn't the leading search engine. But it appears that Google is also making progress on this rapidly growing internet market.
While on January 2012 Baidu held nearly 65% of the Chinese search market, in May it fell to 54%. On the other hand Google, which held on January 31%, already jumped to over 41% in May. Yahoo and Bing are rather almost insignificant players in China with about 2.2% share each.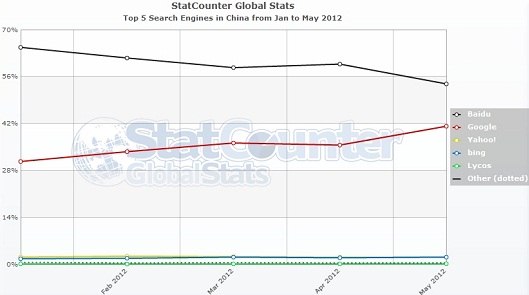 NetMarketShare – Worldwide
When looking at the overall global search industry picture, we can see that there's actually only one leading search giant player in the world and a few more small runners up- Google is responsible for 4 out of 5 searches in the world, Yahoo has less than 7%, Baidu has 6% (almost exclusively in China) and Bing has just slightly over 4%.