I have a feeling that something good is happening to Yahoo recently. After last month the company presented its exciting browser/plugin Axis, now it is introducing other impressive upgrades for another core web products- Its image and video search.
Yahoo announced that it has renovated the interface of its image search and video search to offer searchers a better visual experience, which is logical when considering that both images and videos are visual in essence. The result isn't good. It's amazing.
Image Search
In order to provide more high quality images, Yahoo has partnered with Getty Images which according to the company's post will contribute over 20,000 images every day to the search index only a few minutes after they were uploaded. If true, it's indeed a considerably meaningful partnership.
On the image search homepage appears an auto-scrolling gallery of the most recent trending image searches which looks very attractive and interactive. Quite nice welcoming feature that can easily draw users to engage with it and make them forget why they've visited the page to begin with.
When making an image search, the results appears as thumbnails which expands and offers few more details about the image (title, resolution, file size, URL, Facebook Like) when hovering over each one. On the top left corner of the results appears one quadruple-sized thumbnail which opens up the high-quality images feature (mostly powered by Getty Images).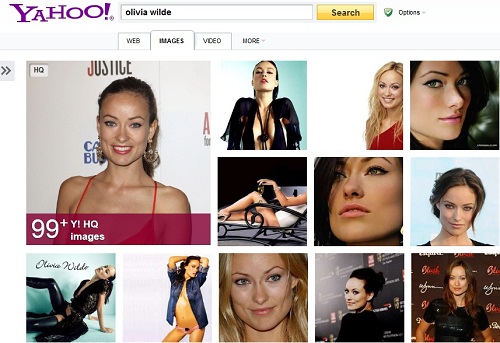 The high quality images feature simply offers a spectacular experience to browse through high quality images where the user can instantly share images to Twitter or Facebook, reveal more of the image's details, toggle to full-screen and play the image results as a slideshow.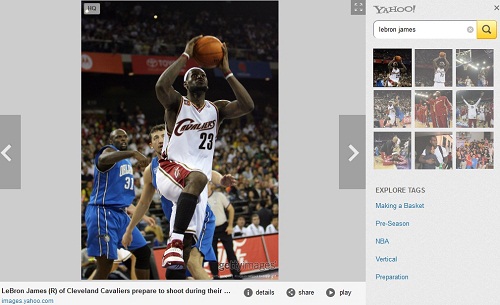 Video Search
Even though Yahoo's video search didn't received the same royal treatment as image search regarding new partnerships, it still offers the same incredible visual experience. After making a video search the results appears also as thumbnails and when hovering over a result it expands to offer a video preview and more video details (title, description, URL).
But the real magic really begins after clicking on some result. Similar feature to the high quality images feature opens up which displays the video on most of the screen real-estate while on the right sidebar the user can continue to search for more videos while the original video still plays.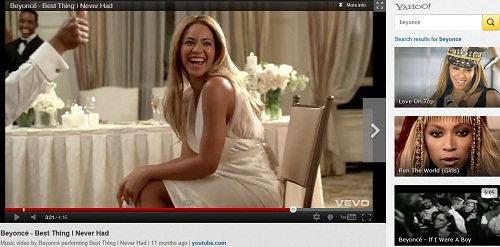 In my opinion, Yahoo image and video search currently offering the best visual search experience, much better than Google's and Bing's (again, only visually). I already mentioned that something good happening to Yahoo, right?