I have to admit that over the passing year I begun loving Bing more and more. As a searcher I think that the new interface which presented last month and went live recently is fantastic. As a webmaster, Bing just gave me a set of incredible new tools to play with…
Microsoft's search engine has announced on an update for its Webmaster Tools called Phoenix. It includes a whole bunch of new features that could be enormously useful for site owners centered under a new interactive design of Bing Webmaster Tools.
Under the new design of Webmaster Tools, navigation through the different tools and features is easier than before. The navigation bar relocated from the top into the left sidebar organized by drop-down tabs. Here's a screenshot of the redesigned Webmaster Tools' Dashboard: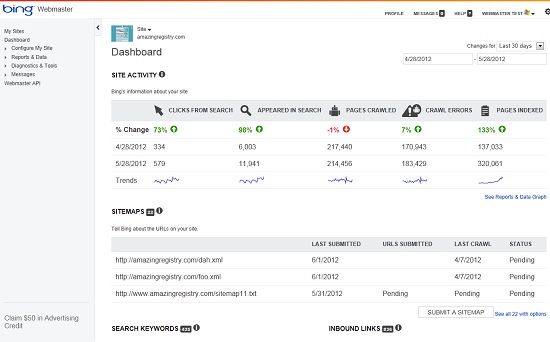 The most interesting new tool which I'm sure many webmasters and SEOs would love is the Link Explorer that offers to dig into the link data of any website. Queries can be filtered by links from specific site, anchor text, the certain URL or for the whole domain and for internal or external links.
Although the data is still limited for up to 1,000 links for each query (in most cases probably less), it still holds very valuable information to investigate (some would say "spy") all kinds of sites. Until now and since the death of Yahoo Site Explorer last year, there was a shortage of this kind of tool provided by a major search engine.
I think that especially on these times, information from the Link Explorer could mostly help to understand better… Google. Yep, after Google's Penguin update which targets sites with unnatural links, many webmasters are looking for tools to research link data.
At least until Google will release its mysterious disavow links tool, Bing Webmaster Tools probably offers the deepest link information.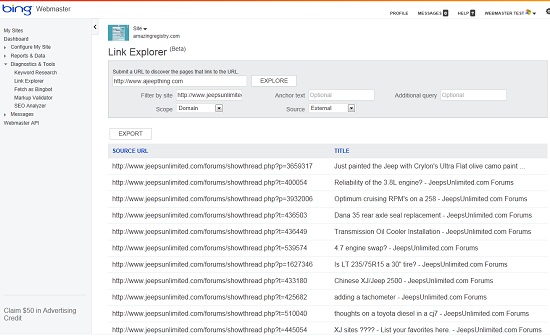 Besides the Link Explorer, Bing also presented other new tools and updates to existing ones. Here's a quick rundown of the changes:
SEO Reports- Similar to Google Webmaster Tools "HTML Improvements", Bing's SEO Reports will also offer SEO recommendations every two weeks.
SEO Analyzer– A tool which allows to test on real-time pages and suggests better SEO practices if necessary.
Fetch as Bingbot- Offers to submit the Bingbot to a page and display how it sees it from its own eyes.
Canonical Alerts- Alerts whenever Bing suspects the webmaster is wrongfully using the rel=canonical tag on the site.
Update for URL Removal Tool- From now on, blocking URLs will be limited to 90 days.
Update for Keyword Research Tool- Now allowing multiple keyword requests at once.
Update for URL Normalization- Renamed to "Ignore URL Parameters" and presents easier interface.
Quite a big list of updates… I guess all you webmasters have a lot to play with and to inquire now!