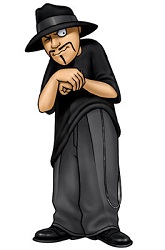 Something just isn't working right at the search animal kingdom right now, led by the king of the jungle, Google… I would even dare to say that something is broken… Instead of concentrating on offering a great experience over their websites, many site owners lost all focus in their efforts to rank well…
And all dirty roads eventually come back to one rotten ranking signal- Links. Yeah, those things that mostly appears as blue texts (red in this site's case) and which the vast majority of people perceive as a way to simply visit other websites, are the roots of all evil in the webmasters world.
I guess the big vertigo begun right after Google released the notorious Penguin update back in April. In a nutshell, it sets to target websites which participating in activities outside of Google's guidelines for webmasters and especially in dubious link schemes (you can read more about the Penguin and links here).
The Penguin makes many site owners to try obsessively to remove any links to their sites that have just the slightest chance of not looking natural in the eyes of Google. And where there's a big crazy motivation for something, you can bet your bottom dollar that there will be some assholes there also which will try to leech on it.
You Want Us To Remove Your Link From Our Site? Sure! (Just Pay Up First)
As Search Engine Land's Barry Schwartz points out, today there are greedy fuckturds (my own definition, Barry is a little more subtle than me) that charges TO REMOVE links from their shitty websites! Do you understand how crazy and screwed up this whole situation is?? Paying for NOT being included on a site??
Barry is mostly pointing at directories that charges fees for removing links, but I've found another example for a similar kind of asshole. The site workathomejobs[dot]org (not passing any link juice!) is a poor online jobs aggregation site. It allows you to open your own account for free with your personal information and links inside.
But if you want to delete your account…:

Oh, thank you for being so "glad" to delete an account! Yeah, sure, I know it's a VERY complicated process to delete an account and not just a matter of a few clicks! Your $10 fee request is totally reasonable! It's not like its people's own private information! You are not a sleazy scumbag at all!
If you're battling against the Penguin and debating if to pay to these blood-sucking vampires, my suggestion for you is… DON'T! That is, unless you want to spend thousands (and possibly more) on this kind of outrageous link removal fees which guarantee nothing. It is very unlikely that removing one link (or a few) will help you to get the Penguin's mercies!
As I see it, your other choices are to reason with the prick (pricks generally don't have a developed sense of justice), take this case to court (which will obviously cost you) or to wait patiently for the anticipated Google's disavow links tool. In either way it won't be easy. The Penguin is indeed ruthless…