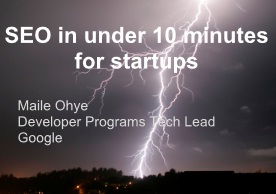 If you don't know much about search engines, you run a small site (around 50 pages or less), you want it to receive some decent amount of search traffic relatively to the site's size and you have a thing for intelligent Asian chicks then boy, Google got a video for you!
On a new video (which you can watch at the bottom), Google's Developer Programs Tech Lead Maile Ohye tries to offer all the most important basic SEO advices she can in less than 10 minutes. Besides that, because SEO can be tricky and dangerous if used wrongfully, Ohye discusses about legitimate SEO practices.
All you SEO savvy people probably won't find in the video anything too revolutionary but yet I would recommend to anybody who's involves this way or another with SEO to find those precious 10 minutes to watch it. Who knows, it might clarify some issue or remind you something important you've forgotten.
Anyway, here's a quick summary of the SEO topics Ohye talks about:
Choose a www (www.example.com) or non-www (example.com) of your site and create a 301 redirect to your preferred version.
Verify your site's ownership on Google Webmaster Tools and sign up for email forwarding to receive important messages from Google about your site.
If you started your site on existing domain, conduct a background check to see how it performs and if it was used before by spammers. If so, fix the issues and submit a reconsideration request (you'll need to verify your site on Webmaster Tools first if you haven't done that already).
Use the "Fetch as Googlebot" feature on Webmaster Tools to see how Google sees your site and you can also use it to submit URLs to Google's index.
Use some analytics software to measure your site's traffic (Google Analytics is recommended).
When planning your site's design consider the certain audience which will visit your site and think about easy navigation between pages.
Define what are your goals when users visits your site and optimize your pages for maximum conversions.
Think about the keywords relating to your site that users will search for and combine them naturally in your text. That said, stay away from keyword stuffing practices!
Make sure that each page will include unique topic, title and meta description tag.
Create descriptive anchor text for links ("car reviews" instead of "click here").
Stay away from shady SEOs, don't participate in link schemes (understand what are good links vs bad links) and don't mistakenly focus on fanciness on the expense of indexable site.
Optimize your site so it will load faster.
Diverse your traffic with the different social media channels (Facebook, Twitter, Google+).
Here's the video: