As June is about to end and July is just around the corner, it is time to review which were the most popular websites in the U.S. for May. Web research firm comScore has released its latest monthly top web properties report which can give us gaze about the internet trending on May.
Over May, there were two main events that had some impact on the American internet users. Mother's Day on May 13th which drove many visitors to flowers and gifts sites, and Memorial Day on May 28th in which there was an increase of visitors to food sites.
Overall, about 221.2 million Americans have accessed the internet on May, a slight decrease from the 221.7 million internet users on April (-0.2%). Here are the top 50 web properties in the U.S. for May 2012: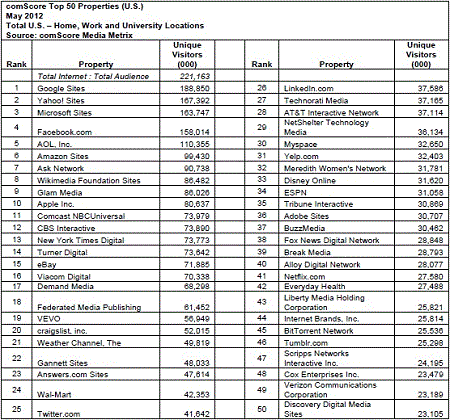 Top 10
Google sites keeps holding the throne also on May with 188.8 million unique monthly visitors (0.1% decrease from April). Yahoo (-2%, 167.4 million visitors) climbed to the second place on the expense of Microsoft (-4.3%, 163.7 million visitors), although both suffered from a traffic drop.
Facebook with 158 million visitors (-0.4%) completes the list of the top four, far ahead of the rest. AOL sites in the fifth place had 110.4 million visitors (-0.4%) followed by Amazon sites with 99.4 million visitors (-1.6%) on sixth and Ask network with 90.7 million visitors (+4%) on seventh.
Wikimedia Foundation properties are on the eighth place with 86.5 million visitors (+1.2%) and Glam Media gained impressively 6.2% more visitors with 86 million on ninth. Closing the top 10 list is Apple with 80.6 million visitors.
Mother's Day, Memorial Day Effect and MySpace
There was a sharp rise of 23% in visitors to flowers and gifts sites as a result of many Americans who sought for presents for their mom on Mother's Day. Some of those top gainers are Teleflora.com (168% rise with 1.3 million visitors), ProFlowers.com (147% rise with 5.8 million visitors) and FTD.com (150% rise with 2 million visitors).
Memorial Day on May 13th resulted a healthy increase of 8% in visitors to food sites such as Berries.com (225% rise to nearly million visitors), DunkinDonuts.com (38% rise with 0.6 million visitors), FoodLion.com (24% rise with 0.6 million visitors) and Kroger (21% rise with 3.1 million visitors).
The last site I want to point out is MySpace. The once-largest-social-network which dropped drastically in the last few years has gained amazingly 25.2% more unique visitors compared to April with 32.6 million visitors. Already back on February the site posted that it is adding many new accounts and on May it peaked for new heights previously seen somewhere in 2011.