As we reach for the end of May, it is the time to review the most popular sites in the U.S. for April 2012. comScore released its monthly top U.S. web properties report of last month, which apparently characterized with an increased consumption of news sites.
Overall, nearly 222 million people in the U.S. have browsed the web on April, a slight decline (-1%) from the 224 million people who accessed the internet on March. Here's the full list of the top 50 U.S web properties for April 2012: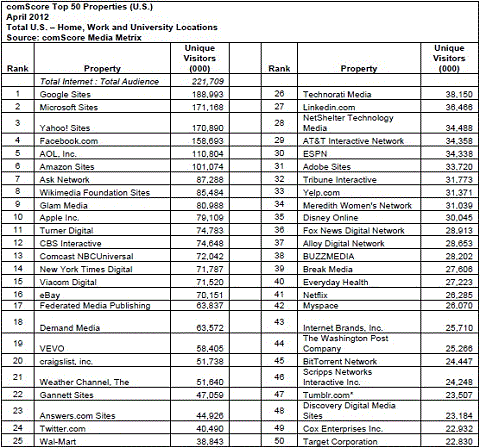 Top 10 Almost Unchanged
Among the top 10 web properties there were almost no changes at all compared to March. Google sites still holds the first place with 189 million visitors (-0.3% compared to March), Microsoft site remains second with 171.2 million visitors (-4.3%) and Yahoo sites in close third with 170.9 million visitors (-2.5%).
Facebook completes the leading strong four web properties with 158.7 million visitors (-0.1%), far from AOL sites with 110 million visitors (+0.1%). Amazon sites are sixth with 101.1 million visitors (-4.9%), Ask is seventh with 87.3 million visitors (-5.5%) and Wikimedia sites are eighth with 85.5 million visitors (-0.9%).
Glam Media climbed three places to ninth and entered the top 10 with 81 million visitors (+3.4%) and Apple kept its tenth place with 79.1 million visitors (-2.5%). CBS Interactive pushed out from the top 10, dropping three places to 12th with 74.6 million visitors (-9.5%).
Top Jumpers
Instagram, which reported at the beginning of the month to have more than 50 million members, is the big gaining web property for April with a jump of 78% to 14.6 million visitors. Interesting to see how it will perform now after Facebook launched its Camera app.
Other interesting jumpers which also entered the top 100 web properties are the Major League Baseball site (mlb.com) with a jump of 66% to 16.2 million visitors in the 96th place and the online security company AVG with a rise of 30% to 16 million visitors in the 97th place.
Here are the top 10 gaining web properties for April: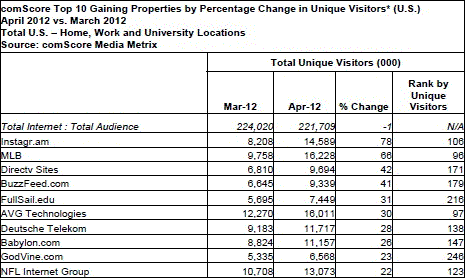 Top Gaining Web Categories
The general news category produced a 12% rise to an all time record high of 183 million visitors to news sites. Entertainment news also had rather meaningful gain of 4% to 119 million visitors. Another category which rose significantly is the Beauty/Fashion/Style with a 9% jump to 83.6 million visitors.
Here are the top 10 gaining categories on the web for April: