Yes, it is the time again to review who were the most popular web properties over the passing month, as comScore has published yesterday its monthly top web properties report, for March 2012. This month prominent trends: The $656 jackpot drove American to Lottery sites and many visited travel sites to book last minute spring break vacations.
In general, 1.8% more Americans have entered the web in March (224 million visitors) compared to February (220 million visitors). Here are the top 50 U.S. web brands for March 2012: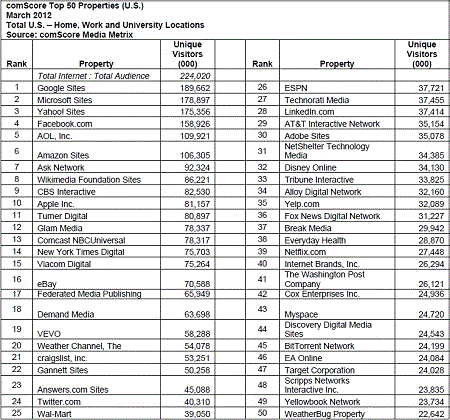 Top 5 Holding still, Apple and CBS Enters The Top 10
This month, all the top 10 web properties except Wikipedia have gained more visitors. Google sites (+1.6%) which had 190 million visitors, are still in the first place with a safe distant from Microsoft sites (+2.6%) that had 179 million visitors. Yahoo sites (+1%) completes the top three with 175 million visitors, far ahead from the fourth Facebook (+0.1%) with 159 million visitors.
AOL sites (+1.5%) and Amazon sites (+0.3%) are still fifth and sixth respectively but seventh is the big jumper this month, Ask Network (+10.3%), which climb two spots with 92 million visitors while Wikipedia (-1%) is down one place to eighth. CBS (+5.6%) and Apple (+3.1%) have entered the top 10 on ninth and tenth, pushing out Turner Digital (+1%) and the biggest loser Glam Media (-10%).
Mega Millions Jackpot and Spring Break Effect
The largest jackpot in the history (not only in the U.S., but worldwide!) has resulted an enormous flow of visitors into lotto and sweepstakes sites such as MegaMillions with a 590% rise in visitors and CALottery with a 101% increase. Overall this industry enjoyed a jump of 25% in visitors.
The travel industry was another rising star in March as many people rushed to book last minute spring break vacations. Travel transactions sites attracted 12% more visitors than February, travel information sites saw a 10% increase, airline sites had a nice 8% boost, car rental sites rose by 7% and hotel sites grew by 6%.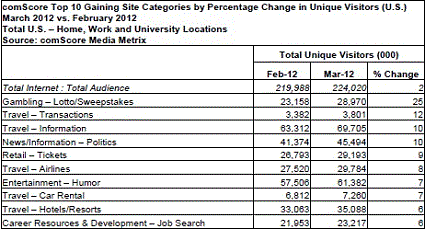 Top Gaining Sites
Among the top 250 sites, the software optimization company PerformerSoft surprisingly was the biggest gainer with 152% jump to 9.2 million visitors (I guess many were looking to optimize for some reason). Another interesting gainer was Instagram which received a lot of exposure after being acquired by Facebook, proving my point that all those bloggers who claimed otherwise simply were greedy for pageviews.
Here are the top 10 gaining sites in March: