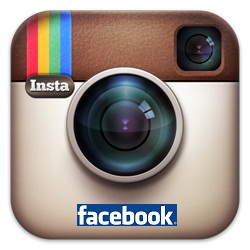 Wow. Wow. Wow. Facebook has announced it is acquiring social photo-sharing app Instagram and it didn't came cheap for the the social networking giant- The deal valued at $1 billion in a mix of cash and Facebook shares (that soon can be publicly traded). Wow.
Mark Zuckerberg has stated in a Facebook post that Instagram will remain an independent service and also elaborated how:
Instagram users would still be able to connect to other social services except Facebook.
Users could share photos just within the Instagram community (and not on Facebook).
Following and to have followers differently than the Facebook connection.
At the moment, it looks like that Facebook is planning to do with Instagram basically what Google did with YouTube, keeping its brand and integrating just a few basic features of the company. That turned out to be a pretty good deal for Google- YouTube, if you didn't knew, is the third most popular website in the world after Google and Facebook.
This giant acquisition emphasizing the importance of a quality photo-sharing feature for a social network. Zuckerberg even explains that although Facebook doesn't have any intentions of keep making these kind of deals in the future, photos is an essential part of the social networking experience:
We don't plan on doing many more of these, if any at all. But providing the best photo sharing experience is one reason why so many people love Facebook and we knew it would be worth bringing these two companies together.
Less than a month ago Instagram's co-founder Kevin Systrom has confirmed that the social networking app has more than 27 million registered users (when it was available just for iOS) and that 67% of those users were active on the prior day. Last week Instagram also launched an Android app, which surged with more than 1 million downloads on its first day.
Obviously that the folks at Instagram are pretty excited about the deal. I can't even imagine how Instagram's investors are feeling right now while just a couple of weeks ago it was valued at $500 million which now doubled itself. In a blog post, Kevin Systrom shared his thoughts about his team's new boss and also, as Zuckerberg, emphasized that Instagram will remain a standalone service:
The Instagram app will still be the same one you know and love. You'll still have all the same people you follow and that follow you. You'll still be able to share to other social networks. And you'll still have all the other features that make the app so fun and unique. We're psyched to be joining Facebook and are excited to build a better Instagram for everyone.
Did I already said "WOW"?
Update (4/10/2012)- Find out more details and information regarding the deal in our follow up post.