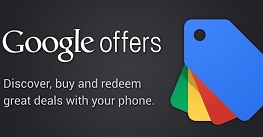 The online deals industry has been shifted gradually over the past 18 months or so from the daily email model into the mobile deals discovery which allows to find promotions and specials offers wherever and whenever users seeks for it.
Google Offers already tried to storm the mobile deals world back in November 2011 with a mobile app for Android and to expand furthermore into the mobile world last month with a deep integration to Google Maps. Now, Google aims perhaps to the biggest mobile stronghold, iOS.
The company announced on the launch of a new Google Offers app for iOS, which suppose to enhance the mobile presence of the deal service on the mobile ecosystem significantly. While Offers was already available for iOS users before on the mobile web but an app can really boost its visibility among those users.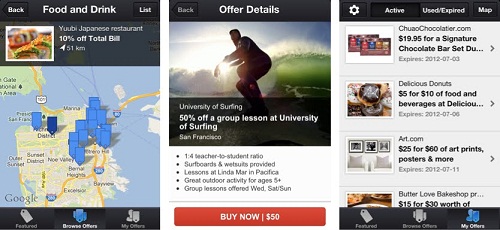 If you already used Offers app for Android, you won't find any major fundamental differences to the iOS app as it similarly centers around the following features:
Offers Discovery- Find deals by category or by nearby locations on a map (obviously powered by Google Maps).
My Offers- Access all your purchased and saved offers ("Active" or "Used/Expired").
Redemption- Redeem the deals by simply present them on your mobile device without the need of printing anything.
Notifications- Allows push notifications when the user is nearby a venue which offering some deal and when deals are close to their expiration date.
The direct main competitors of Google Offers on mobile devices are Groupon's only product with a future (at least in my eyes) Groupon Now!, Foursquare's coupon ads product which expected to launch soon and the progressively growing Facebook Offers.
I have to stress once again that even though standalone daily deal brands perhaps would continue to gain some more success on the short-run, I'm very skeptical about their ability to survive independently in the future.
As I see it, at some point along the way all deals and promotions features would simply add up seamlessly and naturally as an additional social layer on top of brand pages in social networks.