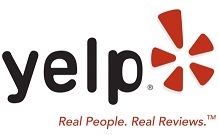 Search is progressing and evolving to serve more layers of information. As it seems, people today demand much more from their favorite search engine (statistically it probably would be Google) besides the traditional ten blue links. And the search companies works hard to deliver that.
Especially the two leading search engines- Google and Bing which almost always following it.
Google integrated "Search Plus Your World" social-search? Bing presents its own social-search interface (which is much better). Google implemented its Knowledge Graph semantic search? Bing collaborates with Britannica (which is not as good). Google has the Penguin and Panda algorithms? Well, Bing doesn't really has fierce animal algorithms (which can be either good or bad, depends if you're a penalized site owner).
So now we've got the new thing- Local business reviews on the search results. As a part of the Google+ Local initiative from two weeks ago, Google introduced a deeper integration of Zagat within Google+ and also within the search results. Now, Bing has its own reaction for this move.
On a fresh press release, the user-generated reviews company (and Zagat's main rival) Yelp has announced on a new partnership with Microsoft's search engine. By using Yelp, Bing Local search pages will now show local businesses' reviews, photos and more details. Here's an example for Bing Local search results with Yelp reviews: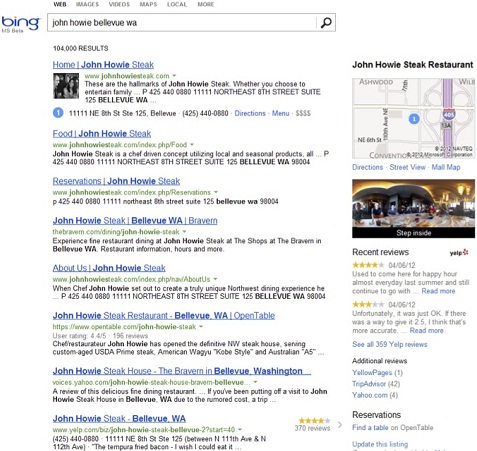 You can see on the screenshot above (provided by Yelp) that for the query [john howie bellevue wa], on the right sidebar appears (it actually the middle bar, I cut the right social bar to avoid confusion) the recent reviews from Yelp for John Howie Steak.
I haven't managed to try this new integration myself, at the moment it doesn't seems that it's live yet, but it certainly looks like a promising cooperation which for both parties can turn to be a big win. For Yelp it is an important strategic partnership after Google obviously prefers serving information from its own property, Zagat.
As for Bing, the ability to offer highly quality local search results became a crucial part of a search engine especially when more and more people are searching for local information with their smart mobile devices. Yelp can surely play an important part in that aspect and to contribute valuable local information for users on the go.