About a week ago, Google+ celebrated six months for the launch of brand pages on the social networking site/service/layer/whatever and a new report is indicating that slowly more brands and users are adopting it. On the meantime, Google released a new upgraded version of the Google+ iOS app. Yep, before releasing it for Android.
More Users and Brands Adopting and Engaging With Google+
The social media analytics company, Simply Measured, examined in a recent study which and how the top 100 brands (according to Interbrand top 100 list) are active on Google+ after six month brand pages are available and how users are engaging with those pages.
Overall, there is a progress even if just small since the prior report in February. Back then, 62 brands from the top 100 had an activate Google+ page and today, just additional two (Xerox and Nike) have started a brand page. However, brands on Google+ are showing a rising activity on the social network.
43 top brands are posting more than 3 posts a week on average on Google+, almost triple as much as February. Also. there's a significant increase in the number of users that adding these top brands into their Circles- 35 brands are appearing in more than 5,000 users' Circles and 22 brands are appearing in more than 100,000 users' Circles.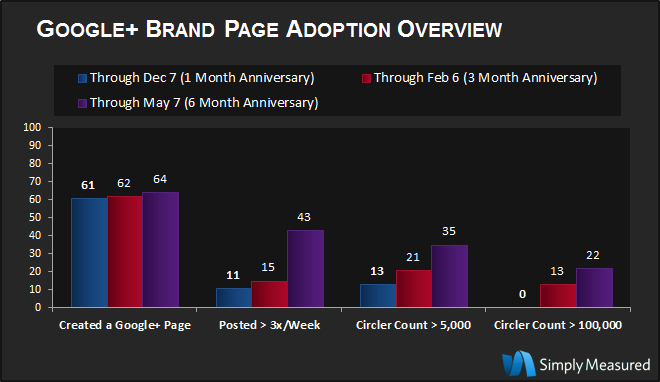 However, not only brands are more active on Google+, but also users. It appears that since February there's a 65% increase of users' engagement (reflected by +1s, comments and reshares) with contents on the network. That said, we can see in the chart below that since March the level of users' engagement with contents remained more or less flat.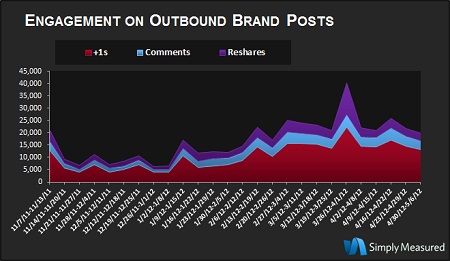 All in all, these are pretty encouraging data and stats for Google+. It will be very interesting to see on the next report what will be the effect of Google+ complete new look for both users and brands adoption.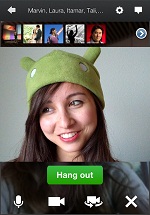 New Mobile App For iOS
There were more interesting news about Google+ last week. The company rolled out a new version of the social network mobile app, just for iPhone. That's right, for iPhone, NOT Android. However, you Android users can relax- Google stating that the new app for Android will be released in the next upcoming weeks with new surprises.
As for the new upgraded iPhone app- It looks pretty, well, awesome! Photos are stretching beautifully all over the mobile screen, posts' text and profiles integrating almost perfectly and the browsing experience is fluent without any crashes (which occasionally happened on the old version).
Mobile already proved to be a significant and almost inseparable part of any social networking service. In fact, there are even some big social networks that are only based on a mobile app. The upgraded version of Google+ mobile app can certainly recruit many new mobile enthusiastic users that haven't adopted Google+ just yet.
You can watch the following short video to see new Google+ mobile app in action: