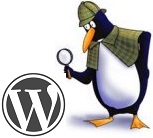 Many websites were hit from Google Penguin update last month and a lot of them still don't understand why they've received this slap. I still believe that most of the sites' penalties were a result of too many unnatural links but now I may have another explanation.
If you have a WordPress blog and you still scraping your head trying to find out why you've been attacked by the Penguin although you did nothing wrong, it just might relate to your blog's theme or plugins.
I recently revealed that there are much more than a few WordPress plugins, widgets and themes that injects hidden links into the page! Google clearly stating on its content guidelines for webmasters that hidden links are a violation of its guidelines which may even result a complete removal from Google index!
Some plugins' developers insert the hidden links so they will rank higher on search engines manipulatively and the Penguin update was set to target sites that use exactly those type of sneaky patterns. Therefore, I suspect that there are lots of site owners which penalized by the Penguin just because they've installed the wrong plugin or theme.
Here's just a small list of plugins which I found reports for implementing hidden links into the blog:
YD Recent Posts Widget
Easy Mashable Social Bar
Custom Contact Forms
vSlider
Easy Popular Posts
Highslide 4 WordPress reloaded
Share Buttons by Lockerz / AddToAny
All in One Webmaster
Tweet-Retweet-Post 2.0
Visitor Like/Dislike Post Rating
Last Year Widget
KnxDT Bookmarks
AnupRaj Tell Friends
Post videos and photo galleries
Collapsing Categories
RAX – Google Language Translator
RAX – Twitter Share Tweet Button And Counter
IGIT Follow Me After Post Button
RO Social Bookmarks
Kontera (very old report, seems they fixed that already)
If one of those plug-ins installed on your blog, make sure you check your page's source code when you're logged-out. Apparently, in some of those plugins the hidden links don't appears on the site's source code for logged-in users and therefore even if the blog owner browse through the code, he/she won't find the hidden link
Also note that most of these plugins have already been removed from WordPress plugins directory. However, there are probably many users that already installed them on their blog.
This hidden links issue also exist in many WordPress themes but it's much less frequent than in plugins. In any case, you can use this TAC plugin to examine the authenticity of your theme (it checks only the theme, NOT plugins).