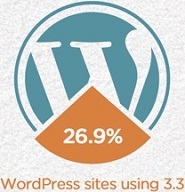 WordPress is definitely an online empire. Just beginning to grasp its enormous hold on the virtual world is breathtaking. This blogging platform is powering an gigantic network of blogs that are in use of many bloggers all around the world in many languages.
But not only bloggers benefits from WordPress. There are many sub-industries that are dedicated just for developing WordPress plugins, widgets, themes and more. Apparently, one of these developers, Joost de Valk (the Yoast.com guy), is so enthusiastic about WordPress that he decided to create an information infographic of it.
The infographic (which you can find below of course) basically consolidates lots of WordPress statistics and numbers that can demonstrate how this blogging platform / content management system (CMS) is affecting so many people, sometimes without they even realizes that.
As usual, here's the textual version first (alongside few current updates):
The infographic is stating that there are 72.4 million sites powered by WordPress but according to the latest data, there are already more than 73 million.
WordPress founder, Matt Mullenweg, disclosed in August 2011 that back then WordPress was responsible for 14.7% of the top million websites in the world.
By the end of 2011, it was estimated that around 20%-25% of all new websites published, were built using WordPress platform, where currently WordPress is powering about 16% of ALL websites.
So far, 98 versions of WordPress have been released.
As it has been revealed lately, 48 out of the top 100 blogs (Technorati's top 100 blogs) are using WordPress as their CMS. 39 are self hosted and 9 are hosted by WordPress.
Since WordPress 3.3 released on December 2011, it had more than 12 million downloads and nearly 27% of WordPress sites are using it.
Some global information: 22 of every 100 new domains created in the U.S. are running WordPress. WordPress.com is the 18th most popular website in the U.K. and also worldwide, while in Indonesia it is the 8th most popular site (according to Alexa rankings)
The infographic is indicating that WordPress has been translated to 40 languages but according to this WordPress page it is already available in 74 languages.
More than 352 million people are visiting over 2.5 million WordPress.com pages on average every month. Every day, about 500,000 new posts are being published on WordPress.com.
WordPress.com itself is using the platform's MS version. Additional 32 million sites are also using it.
Just on the first week of March, about 826,000 YouTube videos were embedded in WordPress websites. Every week, 225,000 times WordPress sites are switching themes on average.
When it comes just for content management system market share, WordPress is dominating with 53.8% share. Joomla has 9.2%, Drupal 6.7% and others 30.3%.
Working with WordPress- The median rate of a WordPress project is $50 per hour (survey findings). oDesk reports that more than 36,000 developers and 83,396 other WordPress-related jobs have been posted. Freelancer lists over 100,000 WordPress developers around the world and reports over $3.6 million in WordPress projects completed.
There are more than 19,000 plugins available for free in the WordPress plugin directory. Collectively, they were downloaded more than 285 million times.
Joost de Valk mentions his own plugins counts (Yoast plugins)- 3.01 million (updated counted: 3.04 million) downloads for Google Analytics for WordPress plugin and 1.12 million (updated count: 1.15 million) downloads for WordPress SEO by Yoast plugin.
Here's the infographic: