One of the few advantages MySpace still left over other social networks, is its music features which allows users free, friendly and fast streaming of their favorites artists' tracks. But now, it appears that MySpace has just lost its biggest gains to Facebook…
As first discovered by TechCrunch's Josh Constine (the Facebook superstar reporter), users can now find on many artists and musicians Facebook pages a new "Listen" button (on the right side of the Like button) which enables listening to the artist's music. Here's an example from Eminem Facebook page: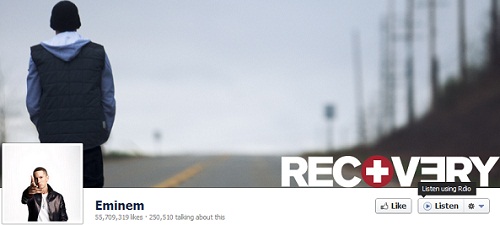 In order to actually listen to music, Facebook is choosing the music streaming app that was mostly in used by the user. If the user didn't installed any music streaming app to his account, Facebook will "recommend" the user (what appears to be randomly) some music app, so he would be able to listen to the artist's music.
From what I managed to confirm so far, the streaming music apps that works with this feature are the most popular ones (which are also Facebook music partners)- Spotify, Rdio, Slacker Radio and MOG. Smaller apps such as Grooveshark, Rhapsody, ReverbNation and BandPage are currently out of this game.

This could turn out to be a huge lose to the apps that aren't featured in the program. Until now, they were highlighted on many musician Facebook pages and with the addition of the "Listen" button they pretty much lose all of their value to the big music streaming app players.
I've also received reports that this feature still isn't available outside of the U.S., which I can partially confirm after trying to enter artists Facebook pages from servers outside of the U.S. and the "Listen" button didn't appeared on many of them. But until Facebook will officially relate to this issue we can't know where exactly it is available and where it isn't.
Another market that the "Listen" button isn't available to yet, is mobile. At least for the current initial launch of this feature, it isn't appearing on Facebook mobile website (m.facebook.com) and obviously not yet on Facebook mobile app. But you can be pretty sure that it will arrive to mobile devices soon enough- One of the favorites activities of mobile users is to stream music.
Even though it is pretty soon to determine what would be the effect of this feature on other sites, I'm quite positive that it will damage MySpace tremendously. The veteran social network, that even announced on some recovery couple of months ago, has branded itself as a music-niche social network and I'm not sure it can hold steady against music-related features of Facebook.
This latest music streaming push by Facebook is joining another meaningful effort to stream music online- Spotify recently rolled out an embeddable Play button for websites and blogs. Listening to music online free and legally is now easier than ever (take that again, RIAA)…