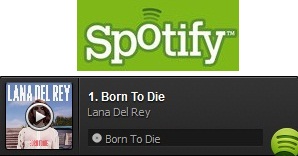 Sharing music across the web was always a problematic issue and many bloggers and site owners have evaded doing that as they were afraid to be caught in the legal crossfire between the record labels and file sharing pirates.
But now, the Swedish-based music streaming service Spotify is allowing to share music in a legal way for free (well, sort of free). Spotify has introduced yesterday an embeddable Play Button which can allow featuring music from Spotify's giant library on websites and blogs.
Embedding a song, album or even a playlist into a site is pretty simple and works the same way as embedding videos from YouTube (although slightly less convenient):
Right click the song/album/playlist you wishes to share and copy the Spotify URL.
Enter the Generator page and paste the URL to the dedicated box.
(Optional) Customize the widget (size, appearance).
Copy the embed code and paste it wherever you want on your page you want it to appear.
The catch is that users must have the Spotify app installed on their computer and running on the background to listen to music with this feature. Users that didn't installed the app, will be directed to the Spotify sign up page.
Also note that the service is current only available in the following countries: Austria, Belgium, Denmark, Finland, France, Germany, the Netherlands, Norway, Spain, Sweden, Switzerland, the U.S. and the U.K. Users from other locations won't be able to use this feature (or Spotify at all).
Here's an example of how the Play Button suppose to appear (Lana Del Rey's album, Born To Die):
The Play Button already appearing on many popular early launch partner sites like Entertainment Weekly, The Huffington Post, Mashable, ELLE, FanRx, The Independent and more. Spotify partnered with the blogging platform Tumblr for a wide integration: Users can now search and add Spotify's music directly from the Audio Post on their Tumblr dashboard.
I think that Spotify can benefit immensely from this feature. The company also made all the right moves during the launch to ensure site owners and bloggers will notice it and be attracted to use it. Even though I have to mention that other music streaming services like Rdio already have this kind of embeddable feature for a long while now without too much success.
The difference is that Spotify has a giant user base, mostly thanks to their popular Facebook integration. Eventually, it all depends on the users. If the button will prove to be engaging and widely used by the users, more site owners will embed more music. From first glance, it has a huge potential to piss the despicable music cartels.
In your face, RIAA!