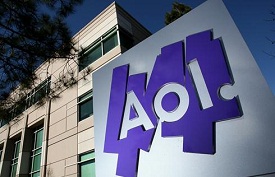 AOL is one of the largest web brands in the world. In February, the company's web properties had nearly 110 million unique visitors just from the U.S. alone, making it the fifth most popular web brand. But recently, there's some mess at AOL (it is more accurate to say, more mess than usual).
If you recall, AOL acquired the Huffington Post for $315 million on February 2011. As Part of the deal, the HuffPost founder Arianna Huffington became responsible for basically all of AOL's content sites which includes (among others) Engadget, AOL Music, Patch Media, StyleList, TUAW and TechCrunch.
Lately, there were a few contradicting reports about AOL's restructure and Arianna Huffington role in it.
At first, Brian Stelter from the New York Times reported that Huffington has been promoted and will gain authority on more units of AOL (the technology, business development, marketing and communications units) as the HuffPost will receive more independence, although Huffington will still report to AOL's CEO Tim Armstrong.
Only a few hours later, Nicholas Carlson from Business Insider has published that Arianna Huffington wasn't promoted at all and in fact, she has been demoted. Carlson saying in his story that after AOL's reorganization, Huffington's role became smaller as properties such as TechCrunch, Engadget, Moviephone, Stylist, AOL Video and AOL.com are no longer under her control.
When trying to explain the New York Times different angle of this whole situation, Carlson is quoting his source's theory of some PR conspiracy by the New York Times reporter Brian Stelter but I won't weary you out with this unproven tale (at this point at least). What is important, is that Carlson reports that AOL's SVP & GM Jay Kirsch (initially named in the story "Jay Hirsch") will take the lead on Huffington's lost properties.
So what's really going on at AOL?
The answer might lays in a post by Alexia Tsotsis from TechCrunch (which is an AOL's property). Tsotsis is essentially confirming parts from both stories- While web properties like TechCrunch, Engadget, Moviephone, Stylist, AOL Video, AOL.com and TUAW are no longer under Huffington's control, the HuffPost will take over other AOL units such as technology and communications.
Most of Arianna Huffington's term overseeing AOL content sites was sown with controversies and disputes. The most known one is the eventual firing of TechCrunch founder Michael Arrington which accompanied with a very dirty and a public polemic until these days (just recently Arrington referred to Huffington as "a very touchy psychopath"). You can find more historical information about that in my Blogs War post.